After leaving Palatka, we continued west through to Gainesville. Most of the route was through bike paths and rail trails. The final approach to Gainesville, on the Gainesville-Hawthorne Bike Trail, was especially notable. The path was beautifully ecologically well maintained, with large isolated shrubs on either side of the bike path. Massive quantities of large dragonflies were flying between the island-like shrubberies, flitting across our path. We saw wild pigs and armadillos in the underbrush as well.
Gainesville is a large college town: home of the University of Florida, a massive institution of 40,000 students. We stayed with a couple, Krin and Richard, who had a fantastic garden with banana plants and raised beds of kale. Amy found an art shop on the way into town. We didn't have too long to stay in Gainesville as we wanted to continue on to Pensacola. This part of the trip has been somewhat constrained by the number of days we have to make our flight back to the northeast on the 20th. Krin helped us plan the next part of our journey and rode with us out of town.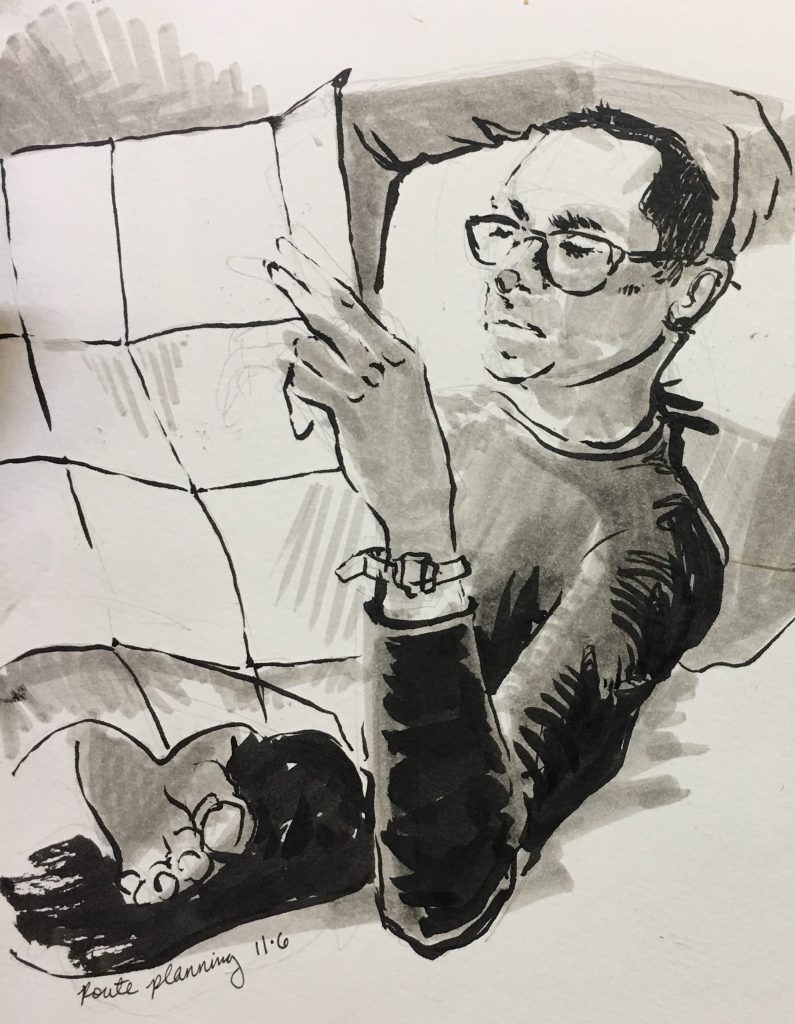 After Gainesville, we passed through to the Ichetucknee springs state park. We stayed for two nights. Both nights we were kept company by an a very charismatic feral camp tomcat. Both of us wanted to take him with us, but he seemed to be enjoying his life at camp, chasing armadillos and begging for food from the tent campers.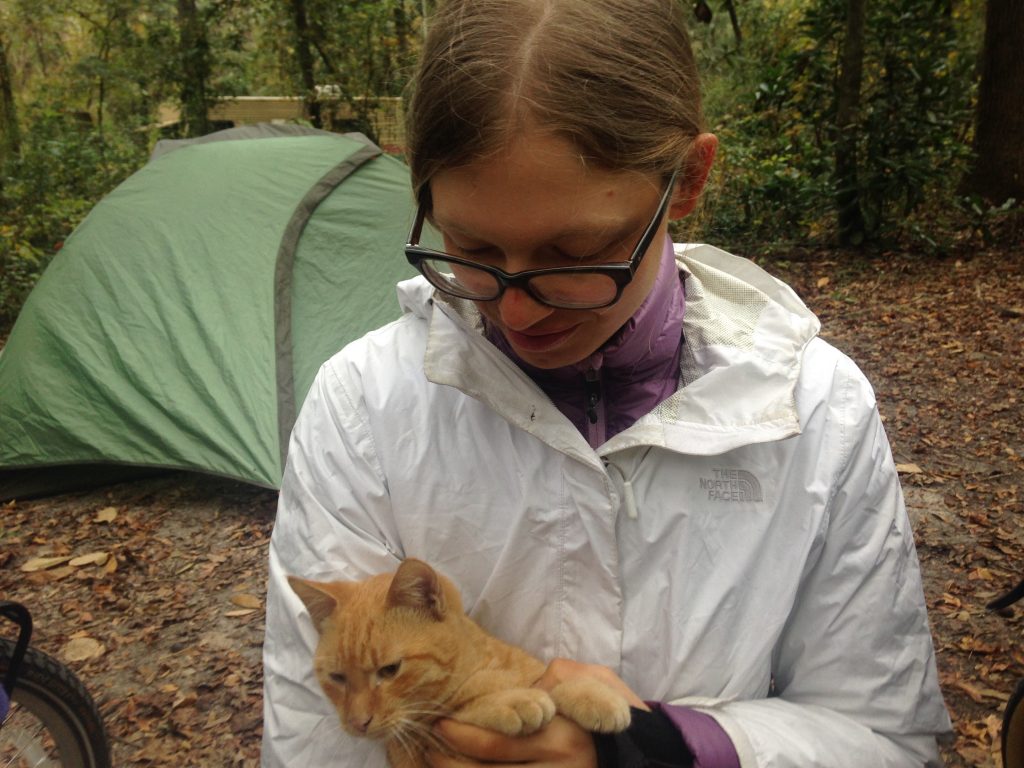 It seemed like he was being cared for by the park hosts as well. Besides, it is doubtful that he would have been able to stay on our bikes for any extended period of time, especially without a cat harness.
On the second day Amy went to the springs (see her earlier blog post). I spent the day doing a Walmart run, the first time I've been to a Walmart since 2011. We had discovered that we'd run out of food and camp fuel, so we needed to make a 17 mile detour to go get some. Walmart wasn't my first choice, but it's one of the only places that sells the type of camp fuel that we need. I was expecting the prices to be out of this world, but the food was more expensive than at Food Lion. There were a lot of shoppers though, and a fairly comprehensive array of products. The most horrifying thing I came across was a giant 2 lb meltable block of "make your own almond bark" vanilla topping that seemed to consist entirely of sugar and hydrogenated palm oil. On the flip side, they had a surprisingly good fresh produce section.
On the way back to camp, I ran into an old man running what appeared to be a metal detector along the ground. When I came closer I saw that it was a spherical wire mesh basket attached to a handle. I asked what he was doing and he said "pecans". Sure enough, the golf-ball sized unshelled pecans on the ground were just the right size to pop themselves into the basket/wheel, leaving the other leaf litter and ground detritus behind. I've decided that I quite like unshelled pecans. The shell is just easy enough to remove, relative to something like a black walnut, and the nut is large enough to seem worth the effort. We bought a half pound at a produce market, and we have been cracking them with some pliers that are part of our bike repair kit.
The following two days we pushed hard to ensure we would make our flight out of Pensacola on the 20th. The first night out, we stayed at a country themed music campground on the banks of the Suwannee river. It was massive, large enough to have its own sales office, with campers using golf carts to get around. The music hall was busy for a Friday night. Lots of people of all ages dancing to a country cover band out of Georgia.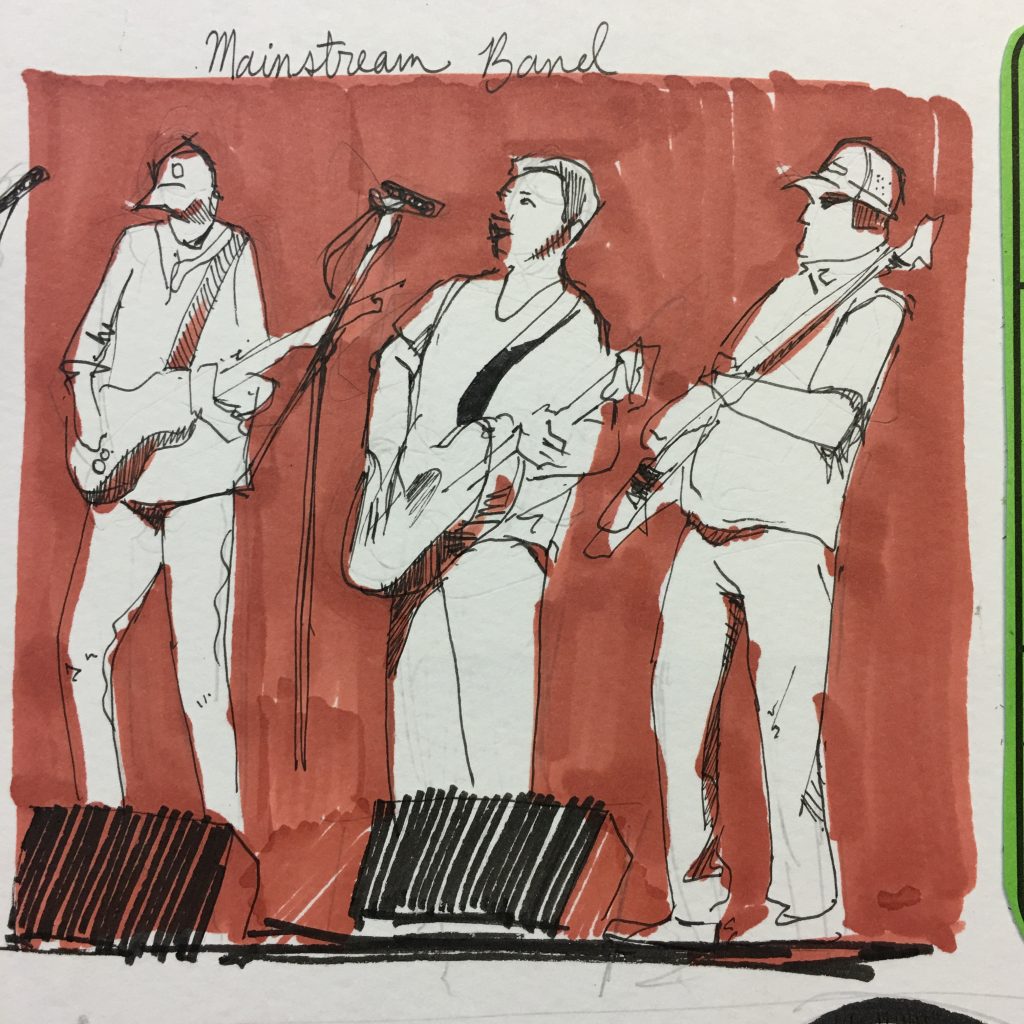 The second night out, we rode almost from dawn to dusk. Our mad dash was assisted by a delicious hamburger and fried veggies provided by the Corner Grille in Madison, Florida. We ended at a campground in Jefferson County on the eastern outskirts of Tallahassee. According to the campsite manager, Jefferson county doesn't have any stoplights. It's that rural. He gently ribbed us from being from "the city" while serving us free quiche his mother made for the guests the next morning. (The quiche was composed of egg and sausage coated with cheese and was delicious.) Having lived in cities or towns all my life, I found it interesting to encounter the concept of the county. Apparently the county is the local city government for an entire region. In Florida there is an elected county position called the "tax collector" that handles administrative work (like getting a driver's license). It was slightly amusing to pass by "Tom McGee: Tax collector" buildings with large crowds of cars waiting outside. It made me imagine some kind of modern Sheriff of Nottingham character from the Robin hood legend.
Later that day we biked into Tallahassee. Parts of Tallahassee seemed more hilly than San Francisco, which was a change from the past month of cycling. We stayed with Scot, the founder of a bicycle collective called Bicycle House. Scot used to be a professional bicycle racer, and at one point rode in the tour de France for a club. He moved to the northeast, near Natick, where Amy and I went to school. Later in life he suffered an injury and came back to Florida to be with his family. We had great fun staying at the Bicycle House and using the outdoor shower, made with PVC pipe and a cattle trough! We talked late into the night over a few beers and then again the next morning over coffee.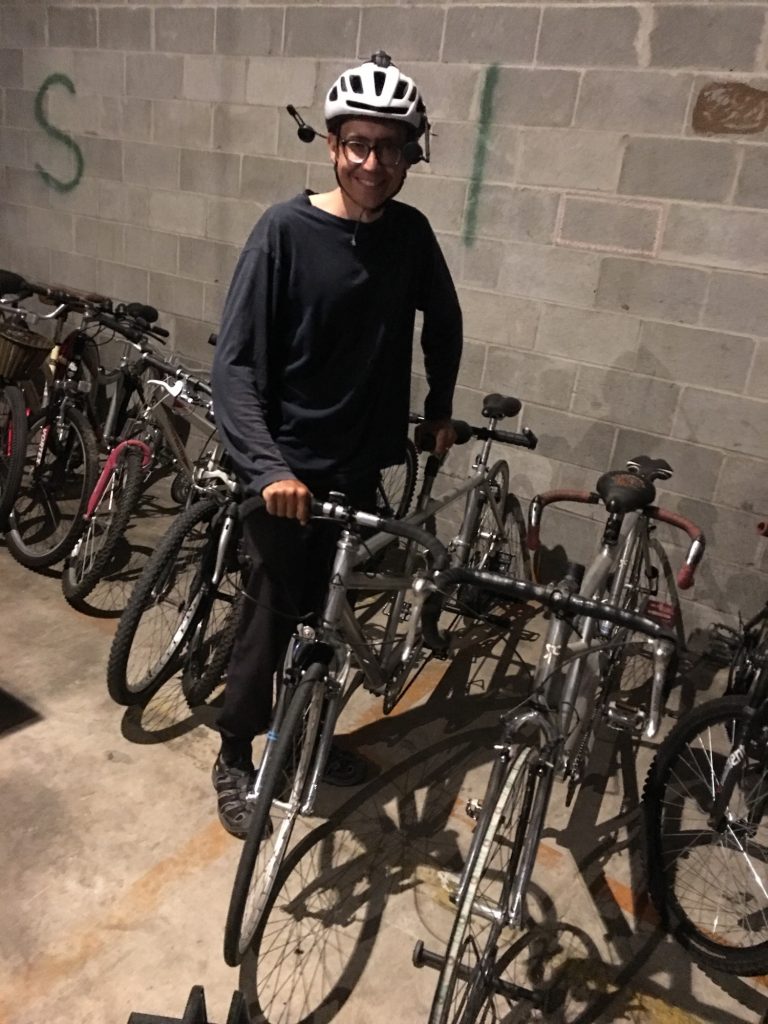 Scot turned us on to a slight modification to the standard Adventure Cycling route. Instead of traveling inland to Pensacola we could continue south to the "Forgotten Coast", the section of the panhandle that abuts the gulf coast and take state route 98. The route has been turning out great so far, but I think it deserves its own blog post.