Soon after crossing the border from Georgia into Florida, we turned due east and headed towards the Florida Coast near Jacksonville. After a night in an uninspiring RV park near the highway, we biked onto a series of barrier islands and headed south.
The memory of the two storms this year loomed large in the area we were biking through. We saw a lot of debris – shingles, window frames and larger home pieces on the side of the road – and many of the houses were being rebuilt. There were plenty of cement mixers and other construction crews racing along the roads. Some dwellings, however, seemed beyond repair; the cliff under one house had collapsed and been eroded into the sea. Another had been squashed down by the wind, as if pushed over by a giant hand. Both had been abandoned and left to ruin. Many of the damaged houses we were passing by were McMansions that could not have been built too long ago.
It was a reminder to me that our division of the land into neat property boxes is a human abstraction, completely disrespected and ignored by nature. The land is alive, with plants, animals and natural processes, and those processes are more powerful and patient than the mightiest empire.
"And so castles made of sand, slip into the sea… eventually."
Unfortunately, we are all obliged to stake our sustenance, our hopes and futures in the realm of human abstraction and live in sandcastles. We know that nothing is certain, that change is constant, that we our ourselves nature, and yet we must make plans for the future, using our abstractions to try to make sense of it all, try to gain some semblance of control, try to effect some change; what other choice do we have but to build and continue to rebuild our lives? One cannot will oneself not to breathe.
 Man is truly the unnatural animal; born from and of nature, but with the hubris to think that he can govern it.
Eventually, we reached St. Augustine and spent a lovely evening with Warmshowers hosts Hugh and Elisabeth, who fed us a wonderful dinner of roast chicken and allowed us to sleep in their camper. I can now understand the appeal of an RV – it is basically a hotel room that you can tow behind your car. The next morning we went to the more historic area of St Augustine and walked around, trying Spanish-style enriched breads and eating brunch. That afternoon we biked out through to the middle of Florida – to Palatka and then to points south through the Ocala Natural forest.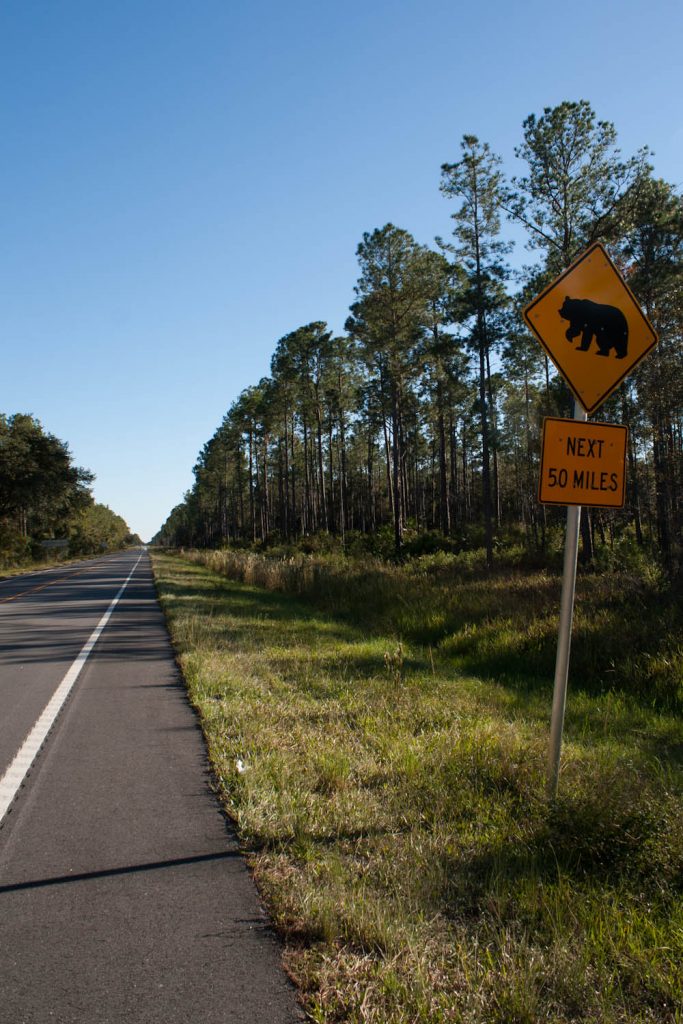 We spent an evening in Salt Springs. The next morning we went to the springs themselves and spent a few minutes mesmerized by the sight of schools of large fish swimming in protected, crystal clear waters.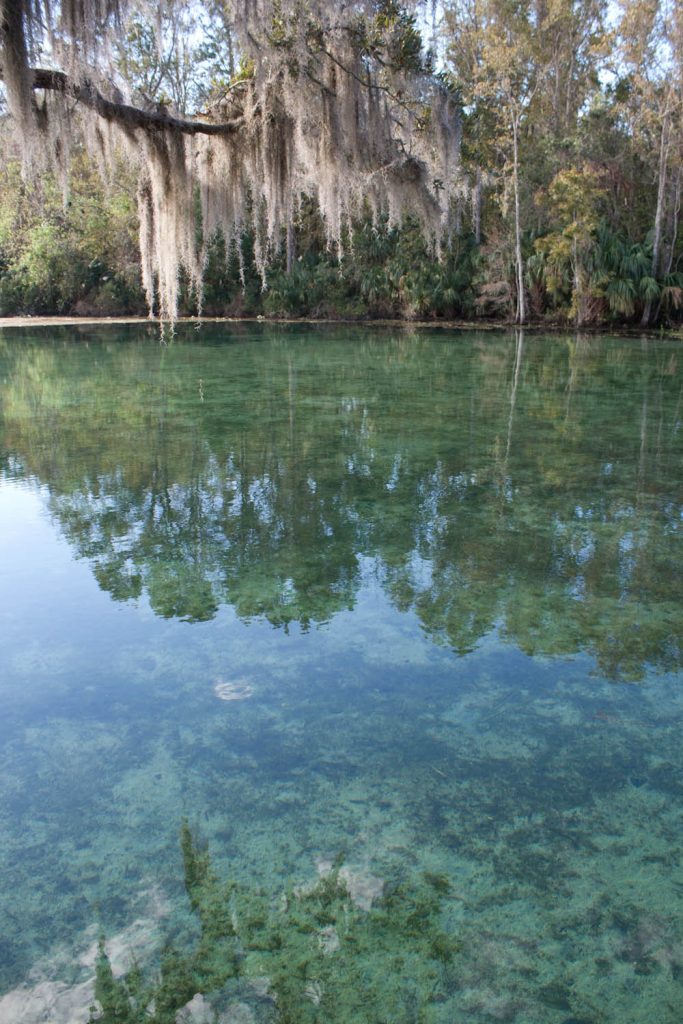 On the way out of the campground, I glimpsed a man with a tent and a bicycle – a fellow bicycle tourist! I gleefully went up to say hello. I announced myself and he turned around. His sun-scarred, misshapen face and sad wordly eyes instantly let me know that I had misread the situation. He turned from his breakfast of Wonderbread and honey, with a few cigarette cartons off to one side. He responded a weak "hello", followed by a fit of coughing that reminded me of the sound of waves. Apparently he too had been misplaced by the hurricane and had "had to start over". He came up in a U-Haul and someone gave him a rusty old cruiser bike so he could bike from his tent to the dollar store for groceries. I asked him if a few dollars would help. He said weakly – "If you want, up to you I guess". I told him we were biking west to Pensacola to start with. He said that he did a "trip out there for God once". Then he returned to his breakfast. When we passed by him again 30 minutes later I swear he hadn't moved.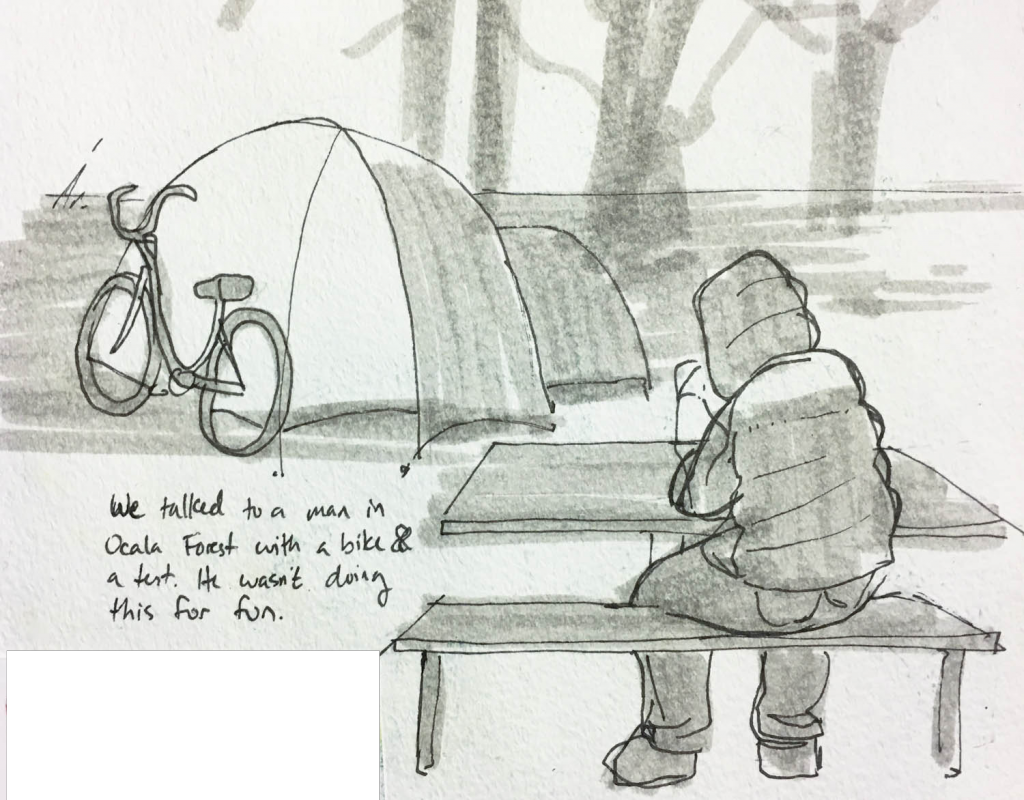 Later that day, we biked along Route 25. We are often chased by dogs, some of which are left outside unrestrained by fences (country folk have different opinions when it comes to dogs) and run into the street in pursuit. This time, I heard some barking, and out of the corner of my eye I glimpsed a small white pitbull, the most American of dogs, beginning to give chase in my rear-view mirror. Groaning, with a slight increase of adrenaline, I start to pedal harder. I'm usually behind Amy so I have to do a lot of the escape work to get away from dogs. The dog turned its head quickly to its left and then a split-second later I heard a thud and the sound of car brakes.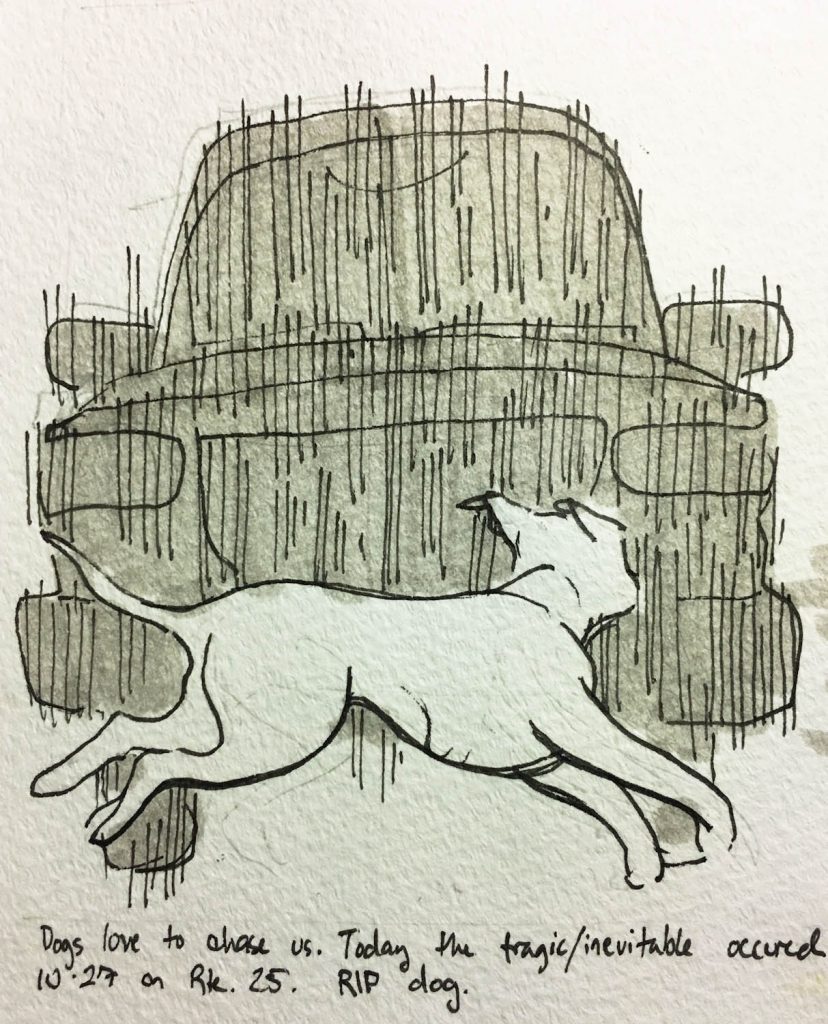 Once I had processed what had happened I turned around and returned to the scene. A few more dogs just like the unfortunate one were howling in the yard, outside this bungalow embraced by swamp oak trees. The driver was waiting for the sheriff to arrive, with her young child in a car-seat in the back of their truck. She suggested we leave in case the other dogs started chasing us. We gave her our number to give to the sheriff… no-one ever called.
An hour later we arrived at the Villages. The Villages is a privately owned age-restricted retirement community. Their sales motto is "Free Golf for Life". Seeing a maze of golf-courses, themed downtown areas and golf cart-only bridges and tunnels rising out of the rural landscape so suddenly was surprising. The man in front of you at the Dollar General, whose card was declined buying two packs of cigarettes, is replaced by a well-tanned, well-dressed elderly gentleman with a bowtie and a hawaiian shirt, puttering along behind you in his Club Car, his well-groomed dog beside him in the front seat. The surroundings are immaculately maintained, with a small army of landscapers running around with gas-powered hand-held lawn edging machines and other contrivances. The entire area seems so very well controlled.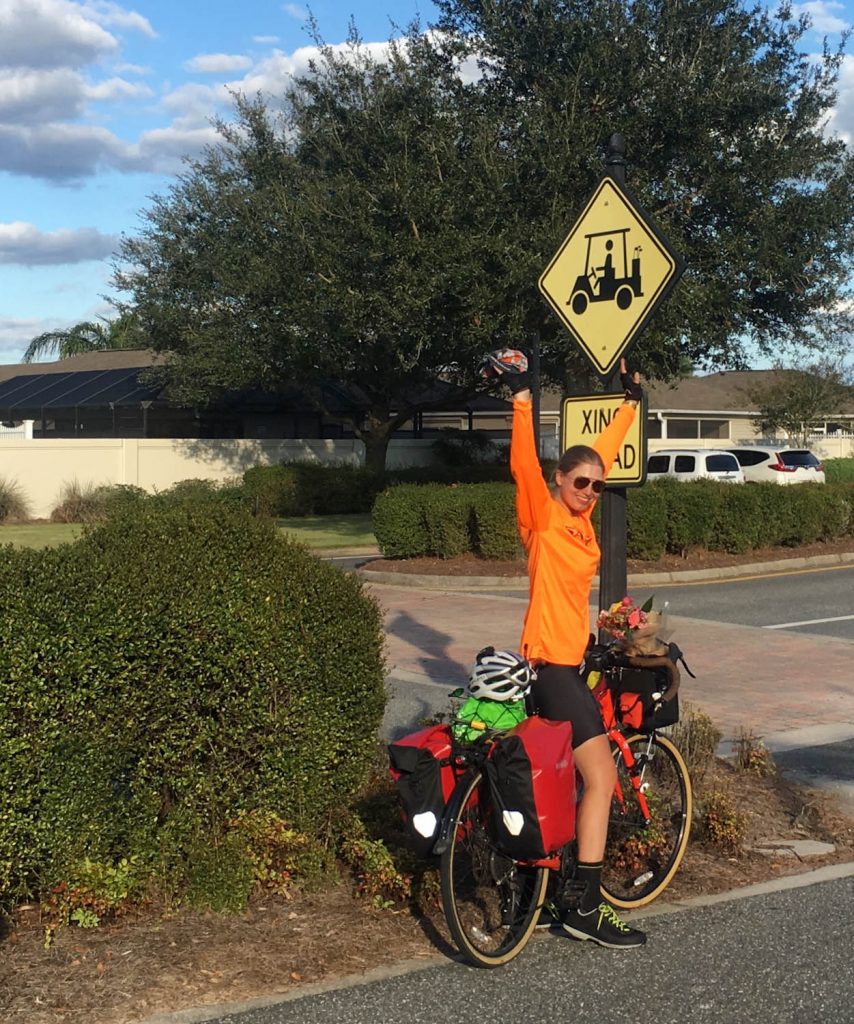 We reached Cherie and Diane's house in the Villages before sunset. Cherie, Amy's aunt, moved to Florida with her partner, Diane, a few years ago to retire here, and visiting them both was one of the reasons we decided to ride all the way south to Florida. Both Cherie and Diane were very sweet and hospitable and we had lots of fun talking with them, playing with their dog Gillian, and lounging on their lanai. I shared my family shortbread recipe and made two batches. Amy and I gently poked a bit of fun at the Villages while at the same time exploiting its amenities, everything except the golf courses.
We visited all three of the themed downtown mall areas – the western themed mall, the coastal themed mall (complete with a lake with artificial shipwrecks and a boat tour), and the original Spanish themed mall. There are hidden speakers in each area that play soothing oldies, and I can almost imagine myself wearing a Hawaiian shirt. The weather is cool enough for the warm Floridian sun to be soothing like a heat lamp at dusk. The feeling of being here is very leisurely. I could almost convince myself that I am retired. I'm not working right now, right?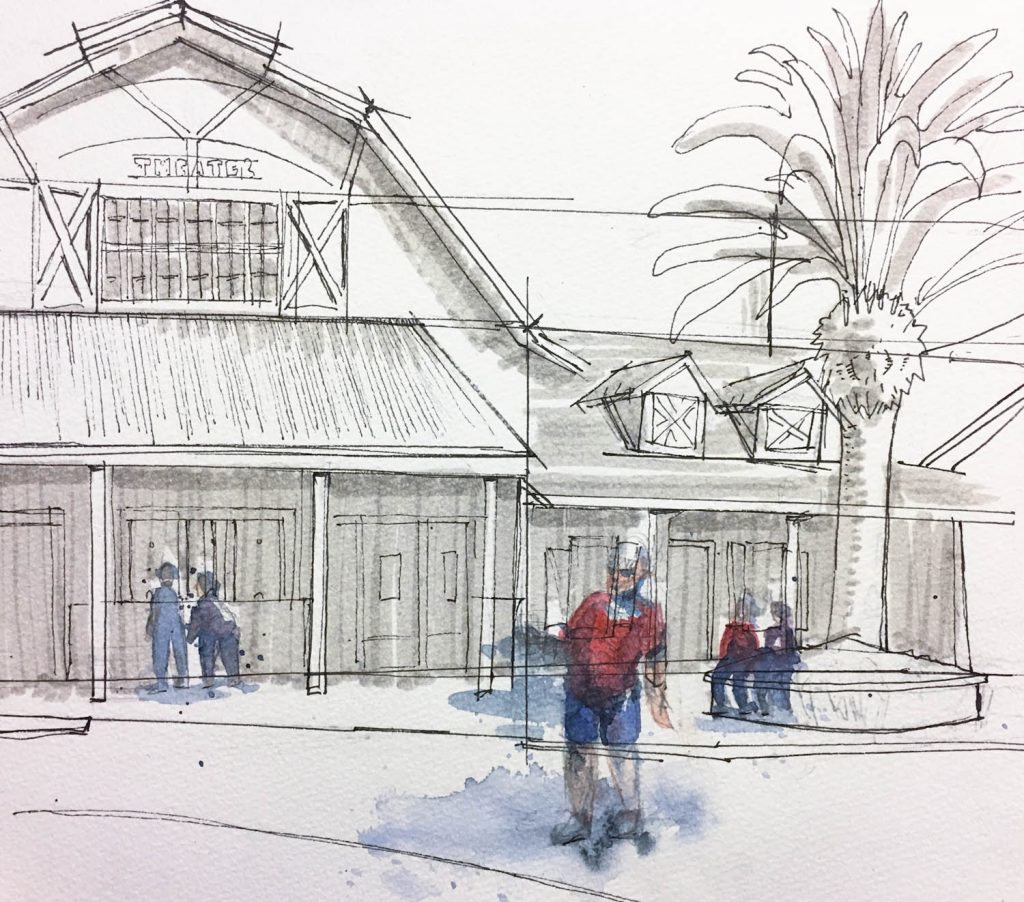 We've been restocking our supplies, sleeping on a fantastic guest bed, taking baths (yes, baths!) and generally being on vacation. I watched the Lawrence Welk show and thought it was charming and ready for a comeback somewhere in deep Brooklyn. I saw the new Blade Runner movie and was very impressed by the cinematography. We ate lunch with Fran, the bike tourist from Concord who we met on the side of the road near Philadelphia (who was also traveling to the Villages to see her father) at a Mexican restaurant "downtown". It was a pleasure to add a bit of closure to her story, and to swap a few stories from our trips so far. I also got a buzz cut, which should make camp showers in un-heated shower areas less miserable. The barber who cut my hair was from Brooklyn. Go figure.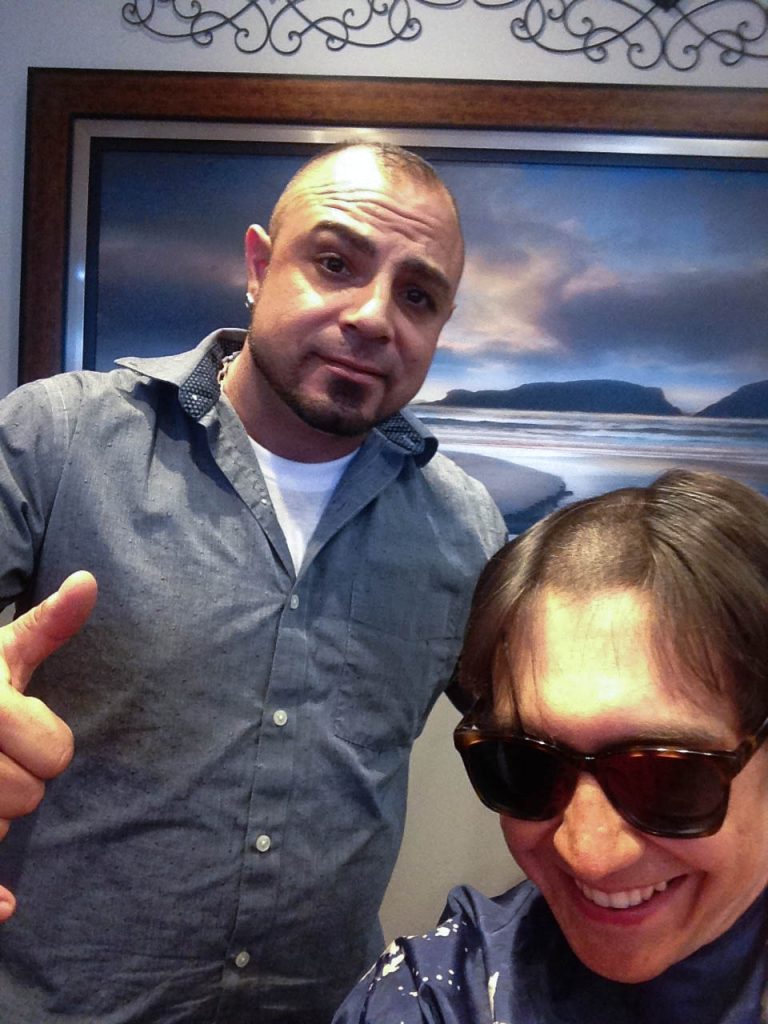 We've decided to continue our trip for now, down to Melbourne, FL to visit our friends Jared and Bryce. Part of me wishes we could stay here for a few more days, but part of me is itching to get back on the road.
That's it for now,
-Jim