Our first week riding has been an introduction to all the facets of Japan we had hoped for: mountains, hot springs, wonderfully hospitable people, and new kinds of cultural immersion.
We left Tokyo via 413 and rode the Doushi Road up through Yamabushi tunnel, at an elevation of 1150 meters (3700 feet). The ride was just at the edge of my ability – I never had to push, but I definitely spent some very long minutes considering it. It was also a lot of fun, with twisty little roads and foggy green mountain vistas. It was remote and empty enough to be good cycling, but interspersed with villages and an occasional pullout full of vending machines.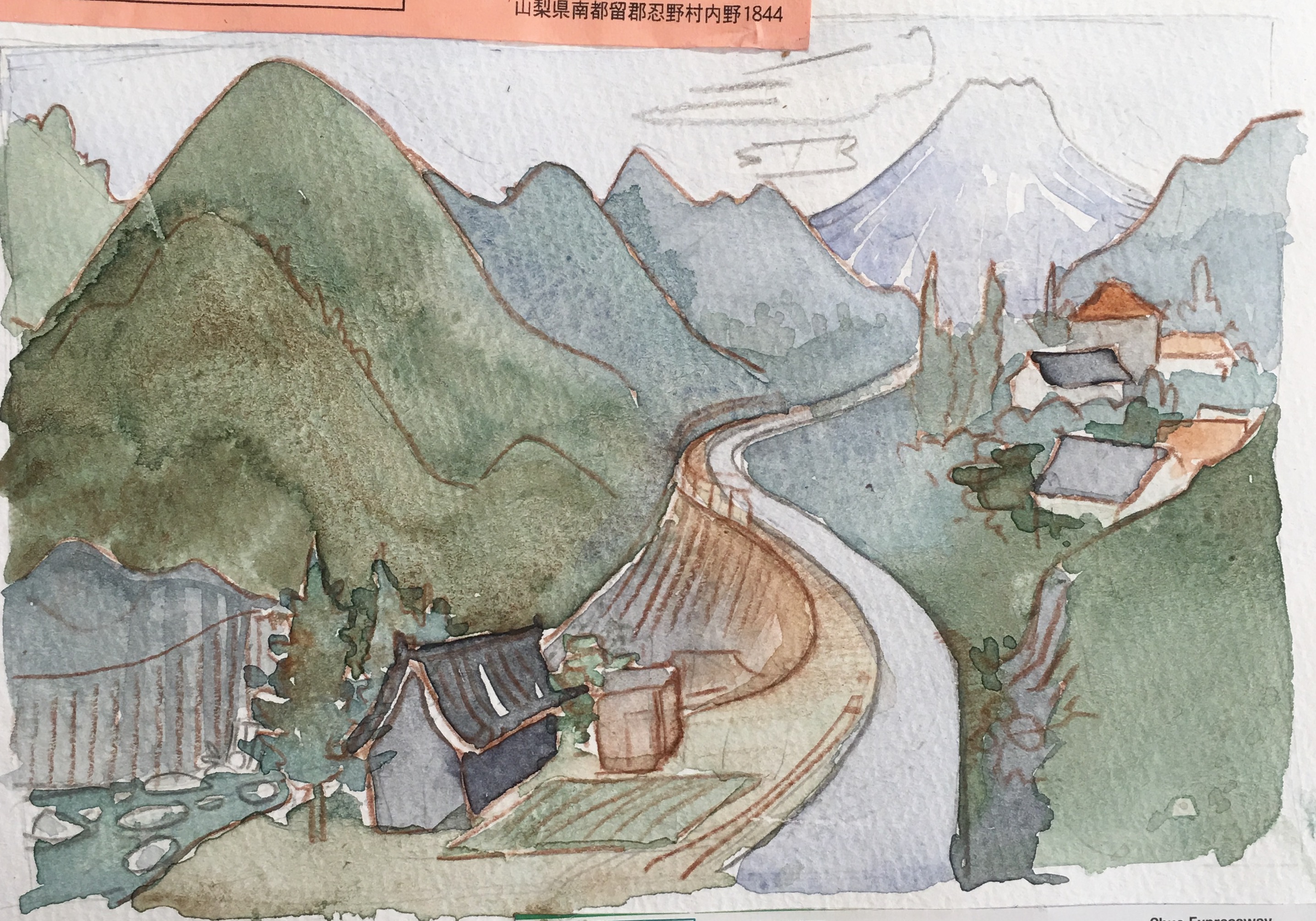 We decided to stop for the night in the village of Doushi, two thirds of the way up. But we were a little too early for camping – despite balmy daytime temperatures there was still snow on the ground – so all the campgrounds were closed. We stopped at a convenience store to buy noodles, and we asked the owners for advice. Thus ensued some of the best travel-magic of this trip to date. After a lot of gesturing, Google translate, and a phone call to an English-speaking daughter, we explained our predicament. They made a few calls, found a place nearby that had space for us, and kindly stuffed our gigantic bikes in their tiny Suzuki truck and gave us a lift a little back down the mountain to a ryokan at an onsen.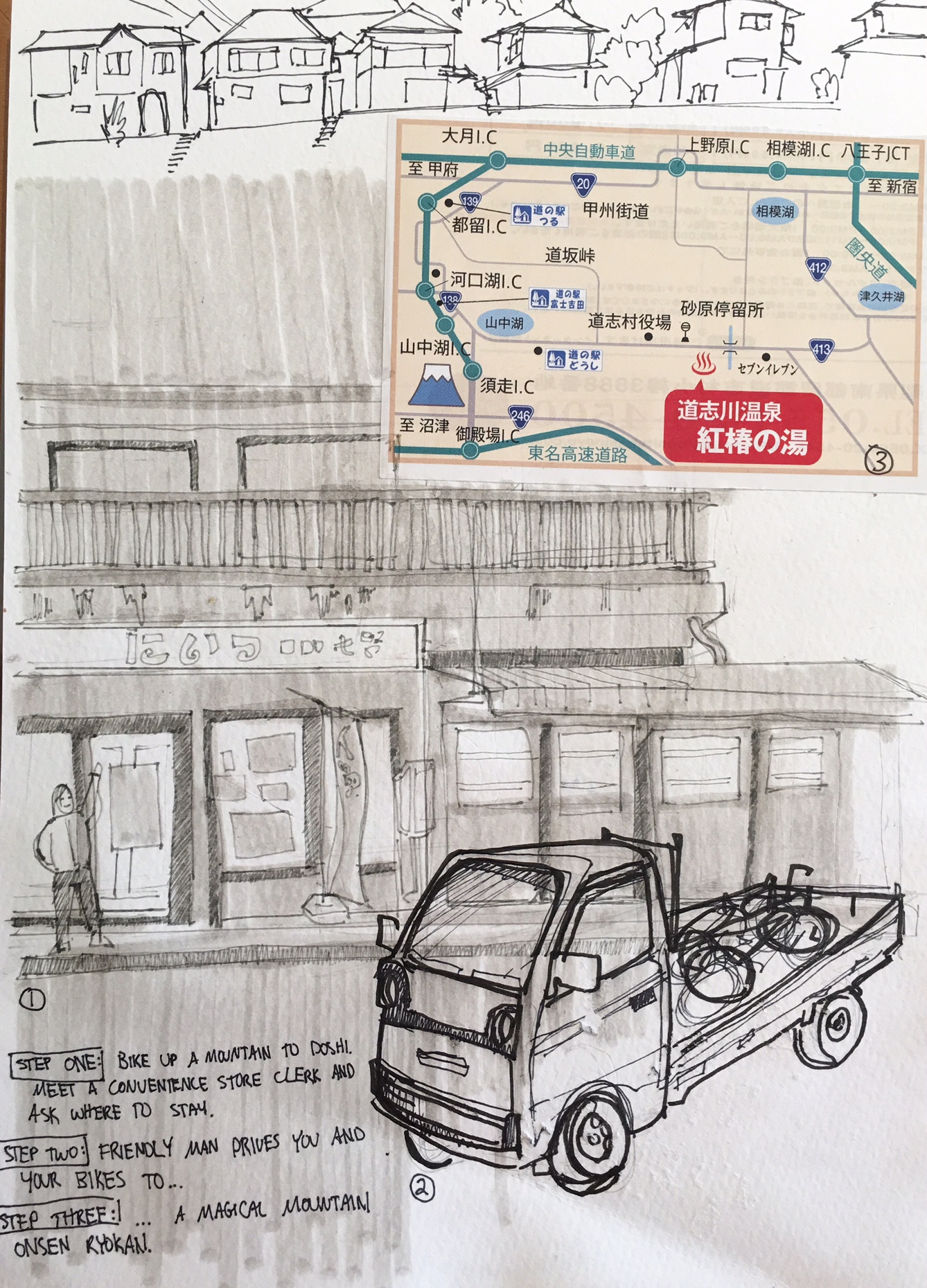 Onsen are one of the things we've been looking forward to in Japan: public hot springs, with an attached bathhouse and other amenities. It took about half an hour to get from swampy bike shorts to soaking outdoors while watching the moon. I've never felt so clean while touring, and it was restorative to all my mountain-climbing muscles.
I was so nervous about messing up somehow that I found my first onsen experience more thrilling than relaxing. This was also our first stay in a ryokan, with tatami mat floors, sliding paper doors and futons. It meant a lot of fumbling (and googling) on our part to do everything correctly. It's not that any of the etiquette rules are complex or hard to understand – largely "keep clean things away from dirty things" – but without a shared cultural background, I'm always double-checking that my mental model of "dirty" lines up with that of our hosts. The dance between shoes-slippers-toilet slippers-shoes already seems more natural, but I think it would take much longer to become automatic.
Once we went over the pass, we were treated with a very long downhill ride and stunning views of Mt. Fuji. Fuji dominates the landscape on topographical maps, and it didn't disappoint in person. It's a huge, looming presence, and it kept peeking behind trees, train stations and power lines. As we rounded its forested foothills and coasted down towards the sea, we finally got a beautiful full view of Fuji over the countryside.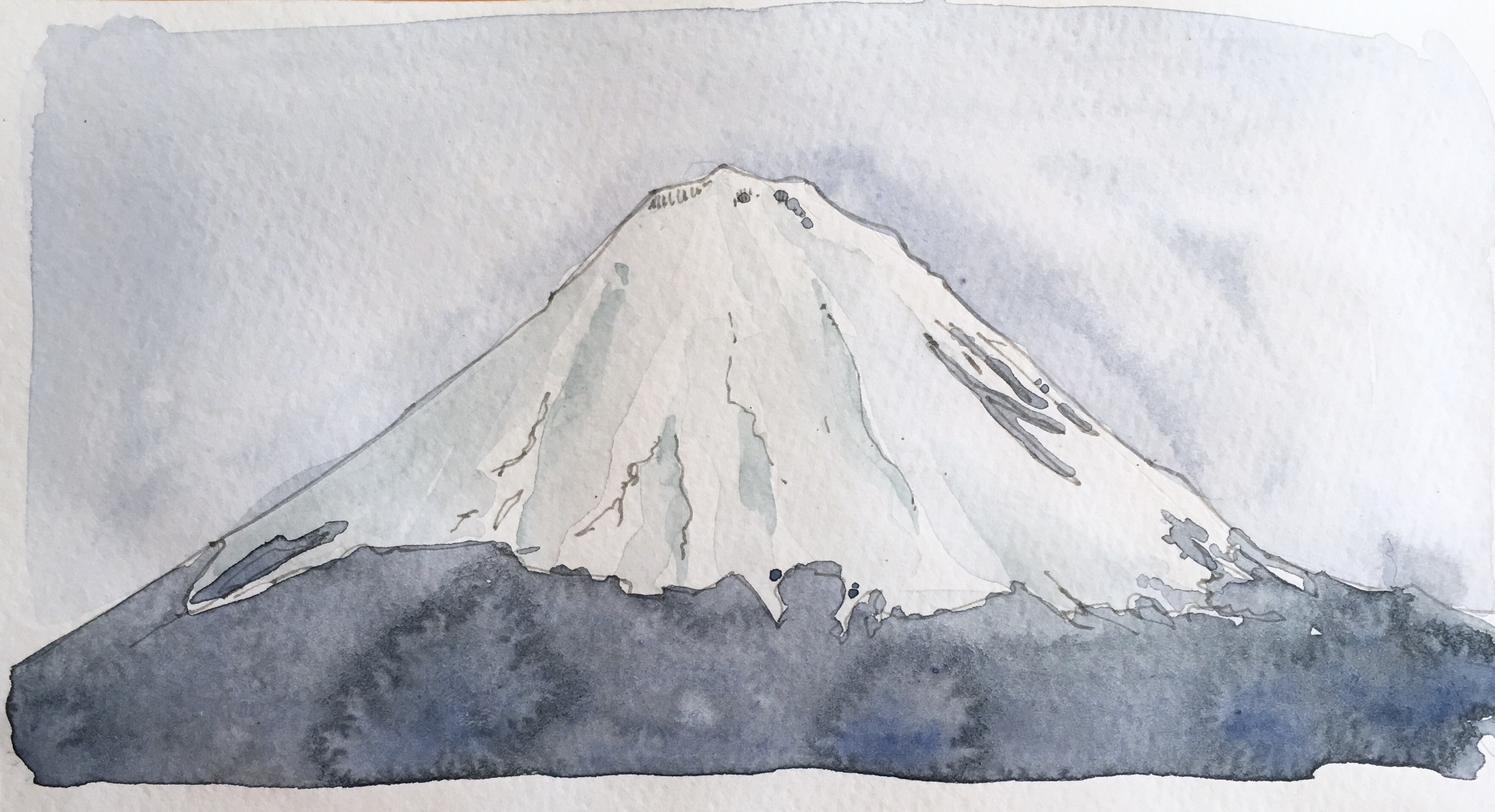 Today we reached the coastline. Our second stay in a traditional inn was easier (and well-lubricated with free sake) and we're starting to get into more of a rhythm for riding. The density and terrain means we're not moving as fast as we were in the US, but it helps that Japan is much more compact. Our next major destination will be Kyoto.