We spent this week leisurely working our way down the Outer Banks. A thin strip of sandbar off the coast of North Carolina, the Outer Banks are part of the Atlantic Coastal Plain. That's the same geological formation as Cape Cod, so it's been fun to compare and contrast the two. Unlike the Cape, the Outer Banks are almost perfectly flat and only a few feet above sea level. The houses here look like Cape houses, but they're built on stilts to reduce flood damage.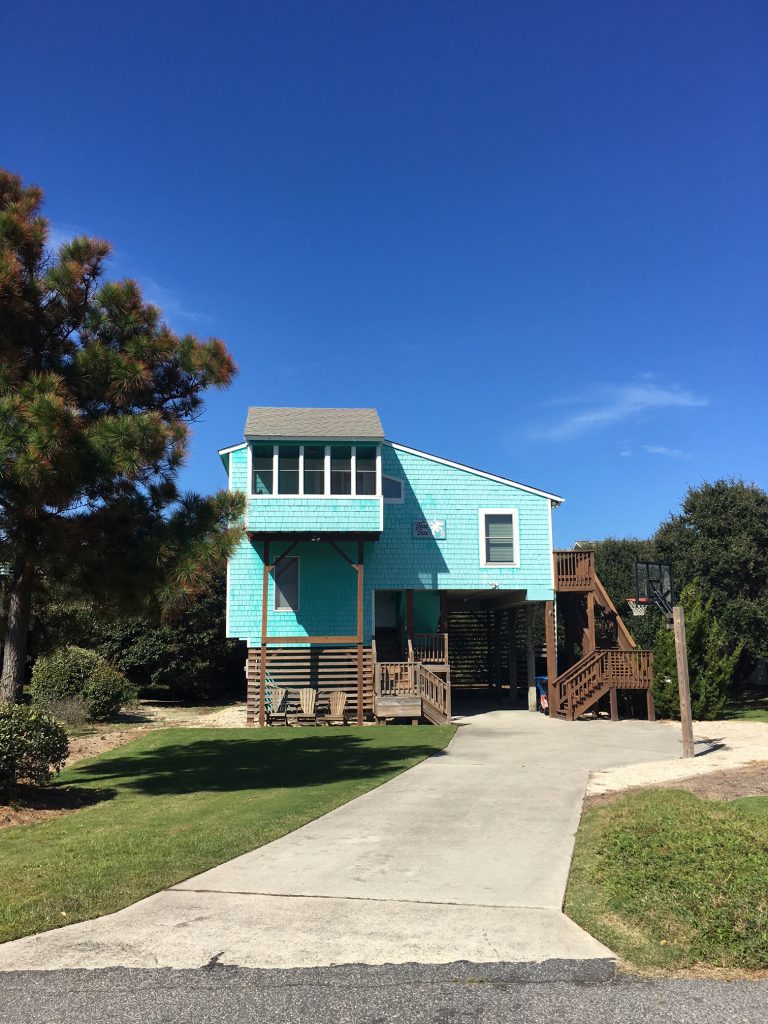 That flatness also means that there's very little to break the wind. The riding has been decent, but plagued by a persistent headwind.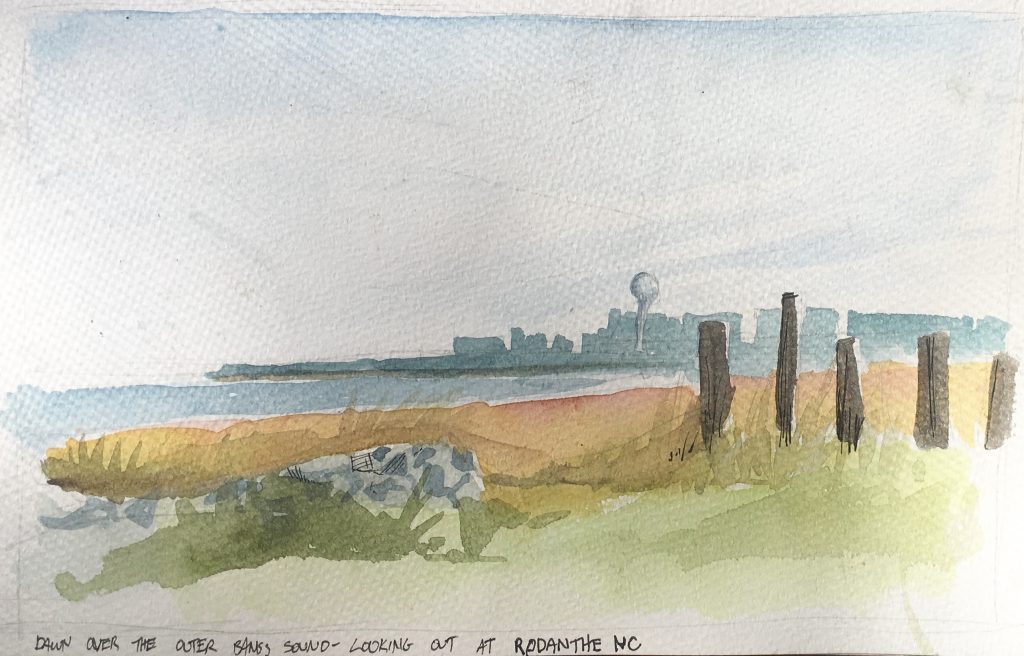 We crossed into the Outer Banks using the 518 bridge at Point Harbor. Our first stop was with Tom in Kitty Hawk, who was the best Warmshowers we could ask for – both an excellent conversationalist and an amazing cook. Since we were having such a great time, and my birthday was coming up, we decided to spend an extra night there. We spent our rest day in Duck, NC, lying on the beach and shopping.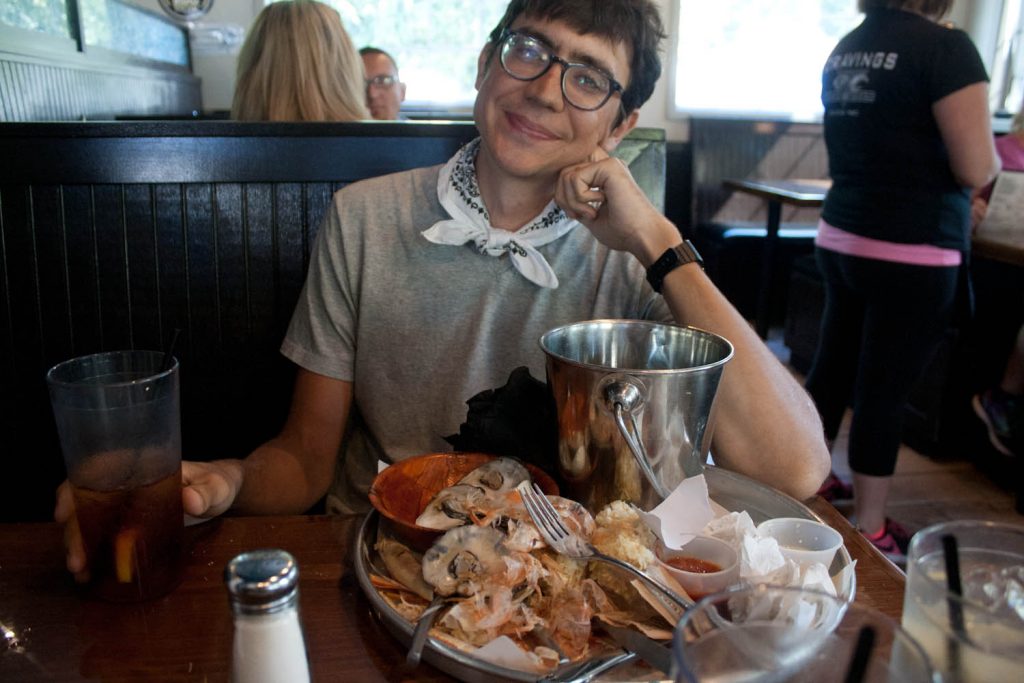 At the end of the day, we also picked up a birthday cake from Tullio's Bakery so I could have a proper birthday celebration with Jim and Tom. We sang Happy Birthday together, which was a really memorable and special experience – it made me feel really welcome here, which means a lot when traveling.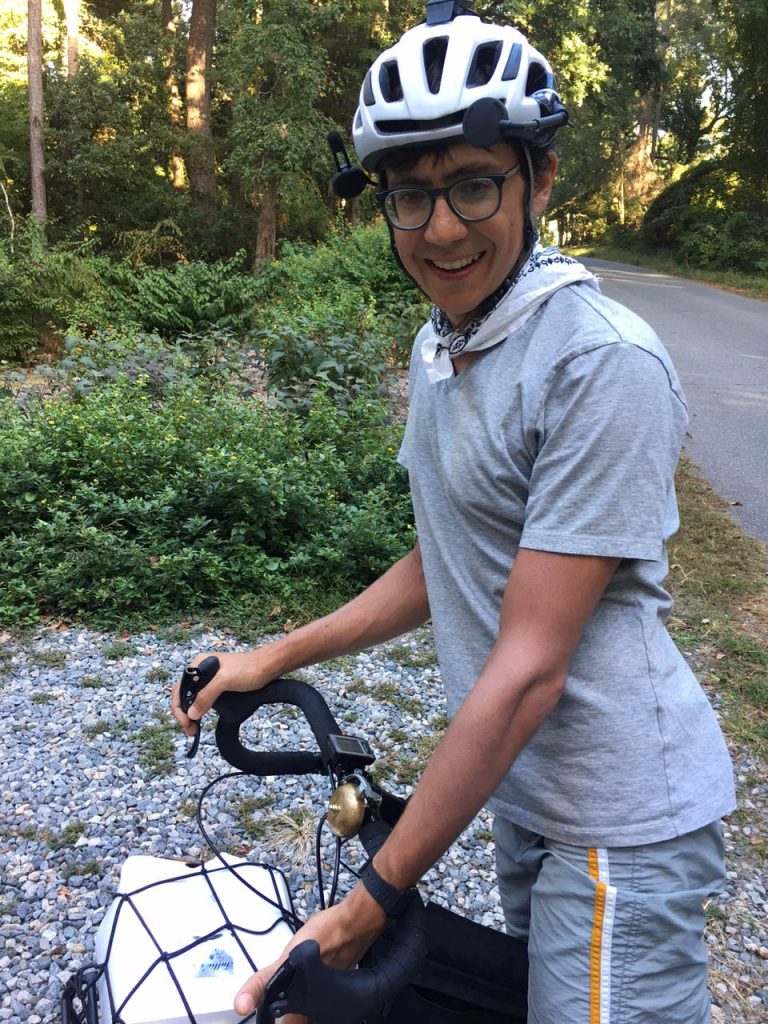 The next two days we rode south. The Outer Banks became increasingly depopulated as we went away from Kitty Hawk. First we were riding through beach towns, filled with empty rentals and t-shirt shops, but once we crossed the Oregon Inlet bridge, we were suddenly on a road in the middle of nowhere through a nature preserve. The road was incredible – the ocean on your left and the sound on your right, with only a few feet of dunes separating you on either side.
Every subsequent town was a long stretch away from the next. As we went south, it felt a little like going back in time, with hand-painted store signs, and a kind of beachy, sand-blasted, down-on-its-luck appeal. We met up with another cyclist, Frank, and got more practice drafting off of one another on those long highway roads.
At the end of the second day, we took the ferry from Hatteras Island to Ocracoke Island. We pulled into a beach-side state campground, which had looked really nice on the map, but unfortunately was teeming with mosquitoes. We took shelter in our tent. While we debated what to do, like a mirage, a woman and her husband came by to offer us cold beer and hot dinner! Once the sun set and the mosquitoes calmed down, we visited them at their camper, and were properly introduced to them as Mark and Anne. Besides feeding us, they regaled us with tales of Mark's adventure biking to Oregon in the '70s. We enjoyed beers and a perfect view of the Milky Way.
Originally we had planned to get up early and take the morning ferry back to the mainland, but Mark and Anne told us we shouldn't skip Ocracoke Village. It turns out they were right – Ocracoke Village is everything we had hoped for in the Outer Banks. It's very tight-knit, with a year round population of about 1,000, and full of cute shops. There's a lighthouse. Plus, they even have a local dessert: fig cake, due to all the figs that grow on the island. We spent the day wandering (and eating) our way around town. One particularly great part of Ocracoke was how everyone seems to know everyone – the coffee shop owner, Katy, told us to buy fig cake at the seafood market; the seafood market owner Patty told us to chat bikes with Katy!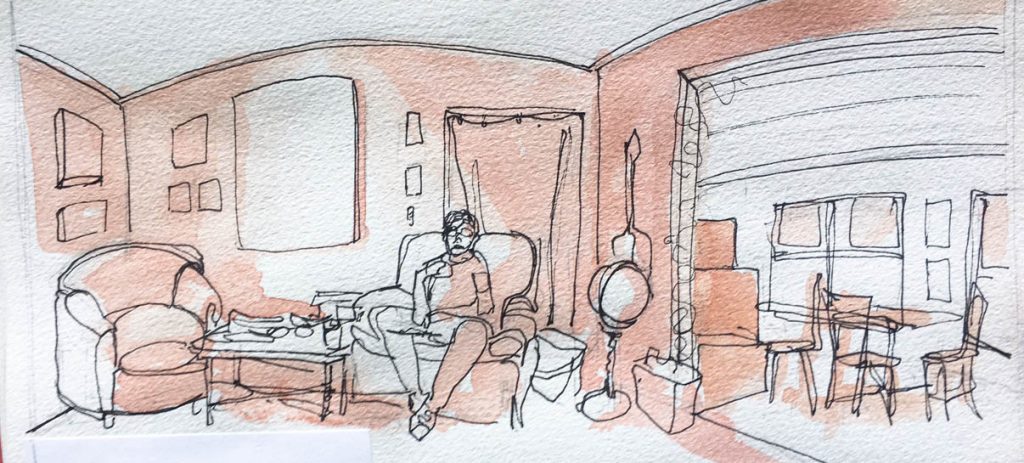 When it came time for the evening ferry, we realized our mainland camping plans weren't going to work, so, oh, darn, too bad, we just had to spend the night in Ocracoke. We were both still itchy from our last campground, and I had a head cold, so we splurged on an actual motel, complete with balcony and hammock.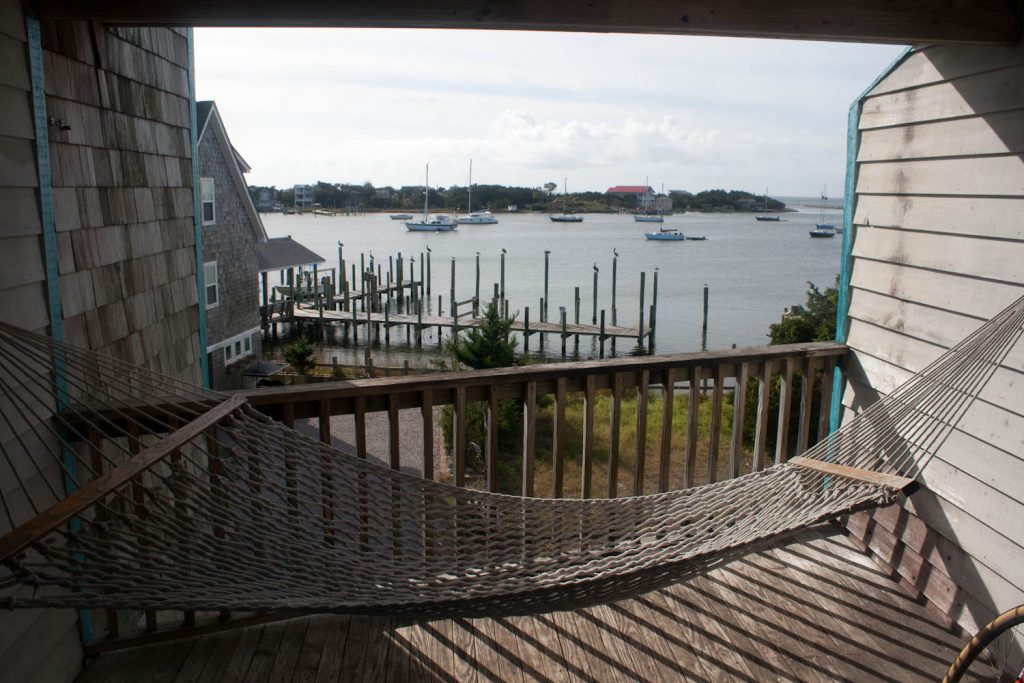 Today we're actually going to take the ferry and return to the mainland. I'm really glad we decided to take the Outer Banks route; it was unlike anything I had expected to see on this trip.