The past few days we've been bicycling through the South Carolina Low Country.

 Most of the countryside we've been biking through has been swampland and estuaries. When I think of a swamp, I usually think of a desolate wasteland, with buzzards and some grasses for ground cover, perhaps a dead tree or two.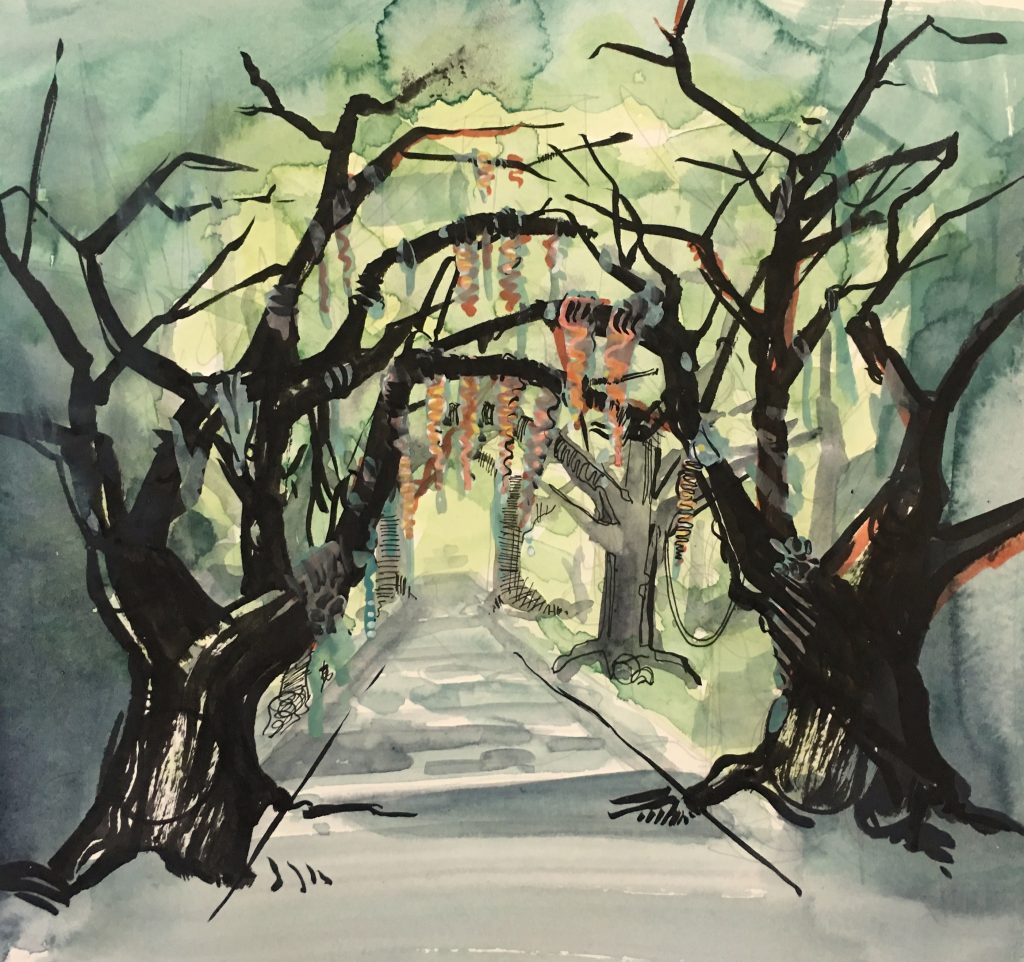 However, the swamps we've been biking through have been living forests. Ancient deciduous trees, festooned with Spanish moss and vines, arch their way over the access roads we've often been traveling on. Occasionally we'll be passed by a logging truck carrying a full load of fresh-smelling cedar trees.
Our first day out of Wilmington we found a secluded spot in a very old (non-swampy) forest to camp (there wasn't much else in the area). The next morning we woke up early and biked seventeen miles to Waffle House, a southern chain we were looking forward to dining at. Now that we've increased our mileage average from ~35 to ~60 miles, our appetites have increased from merely elevated to absolutely ludicrous. The Waffle House managed to more than satisfy our ludicrous appetites; next time we'll skip the extra side of biscuits and gravy. I was very impressed by the minimalist efficiency of the Waffle House. The line cooks had specialized call-and-response language they would use to communicate when a waffle was almost done and how many more they would need to start cooking. The industrial waffle maker itself looked like a car from the 1960s, which I assume was when it was manufactured. None of their ingredients appear to be too perishable: Eggs and white flour will last for a while, and both corn syrup and butter-flavored partially-hydrogenated cottonseed oil should last indefinitely. I can completely understand why they are the last restaurants to close before a major storm: see the Waffle House Index.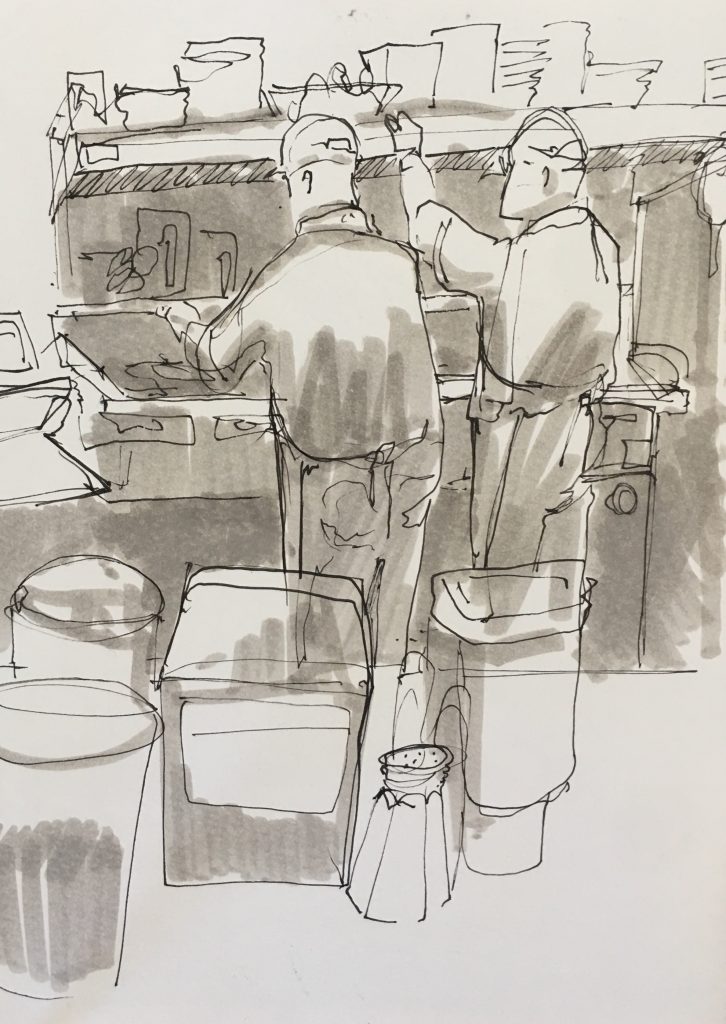 That evening, we bicycled to Conway, a College town a few miles inland from Myrtle Beach. Two old family friends from Egypt, Mike and Lisa, moved from Egypt to Conway almost 20 years ago to teach at the university there. I was so grateful to see them after not seeing much else in the area. They were very hospitable, and we spent many hours reminiscing about our shared memories and watching their pet rabbit, Hunter, hop about. Mike has the same awesome sense of humor I remember so well from my childhood. The next morning they sent us on our way, "Groucho Marx style," with some hard-boiled eggs. For lunch we went to a Food Lion, divided a large platter of supermarket cornbread in half, and put some of the hard boiled eggs on top. It was better than the Waffle House.
After a few days of uneventful riding we arrived in Charleston, SC. We stayed with a couple on Warmshowers, Charles and Missee. Charles was busy planning a large group bike ride with his friends from Raleigh. We enjoyed seeing a picture book of the Southern Tier ride to San Diego that he did with a number of people a few years ago. Missee made us grits both mornings, one with cheese and one with eggs.
Charleston seemed like a nice walkable city. The central peninsula has a similar history and geography to Manhattan; a fort protected from the Native Americans by a wall, at the end of the peninsula, then expansion northwards and to adjacent peninsulas with bridges. We loved walking through the preserved downtown section. It seems like the entire area has managed to survive architecturally over the past few hundred years; no Robert Moses to bulldoze entire blocks of old buildings. Further north, past a buffer of chain stores, was the part of Charleston I would probably chose to live in, a bit cheaper, some breweries, and an amazing modern art space. The brewery I wanted to go to – Palmetto Brewing Co – was closed on the day we were in town, but the campground we stayed at last night had cans of their 'Island Wit' for sale.
On our second night in Charleston, Missee cooked Amy and I a wonderful dinner of chicken soup with roast turkey breast and vegetables, and we spent a lovely few hours talking about our past travels and separate lives. Apparently we have the Middle East in common; her daughter's family is currently deployed to the naval base in Bahrain. Her family is in the music store business. Francis Ford Coppola is one of their clients; they tune his piano at this country house he maintains in the area. They had a lot of respect for my mother's work as a community piano teacher in Egypt. We left them feeling well fed and happy.
After all that we biked another 70 miles to a campground – the first campground we've stayed at since the night before Wilmington, and are currently preparing to bike to Savannah, GA today.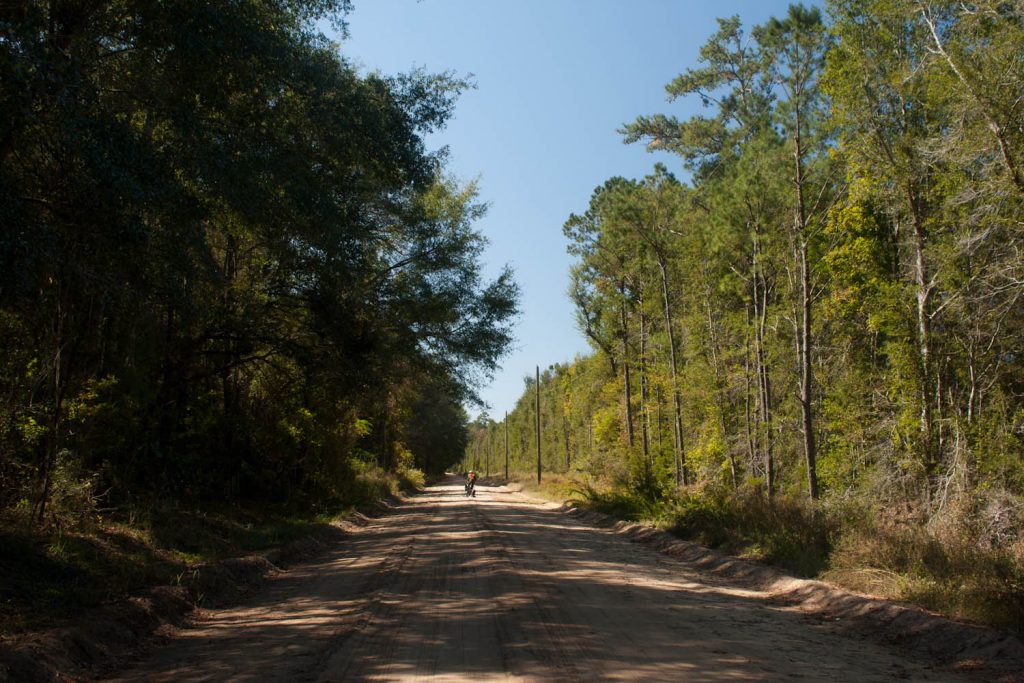 That's it for now!
-Jim