After returning from Massachusetts, it felt strange to be on the road again. Our bikes (or possibly ourselves?) felt like they had gained twenty pounds over our break. However, after a few days getting back into it, we were richly rewarded by some of the most interesting travel of this trip.
We left Pensacola and continued west along the gulf coast. Our first stop was Big Lagoon state park in Escambia County, FL. The park itself was impressive. Sandy paths, gazebos, a watchtower and miles of boardwalk over swamps and lakes. We saw large black snakes slowly working their way over the soupy surface of the swamp. Florida has the best state park system of any of the states we've been through so far, and we stayed an extra night because I was still recovering from a head cold.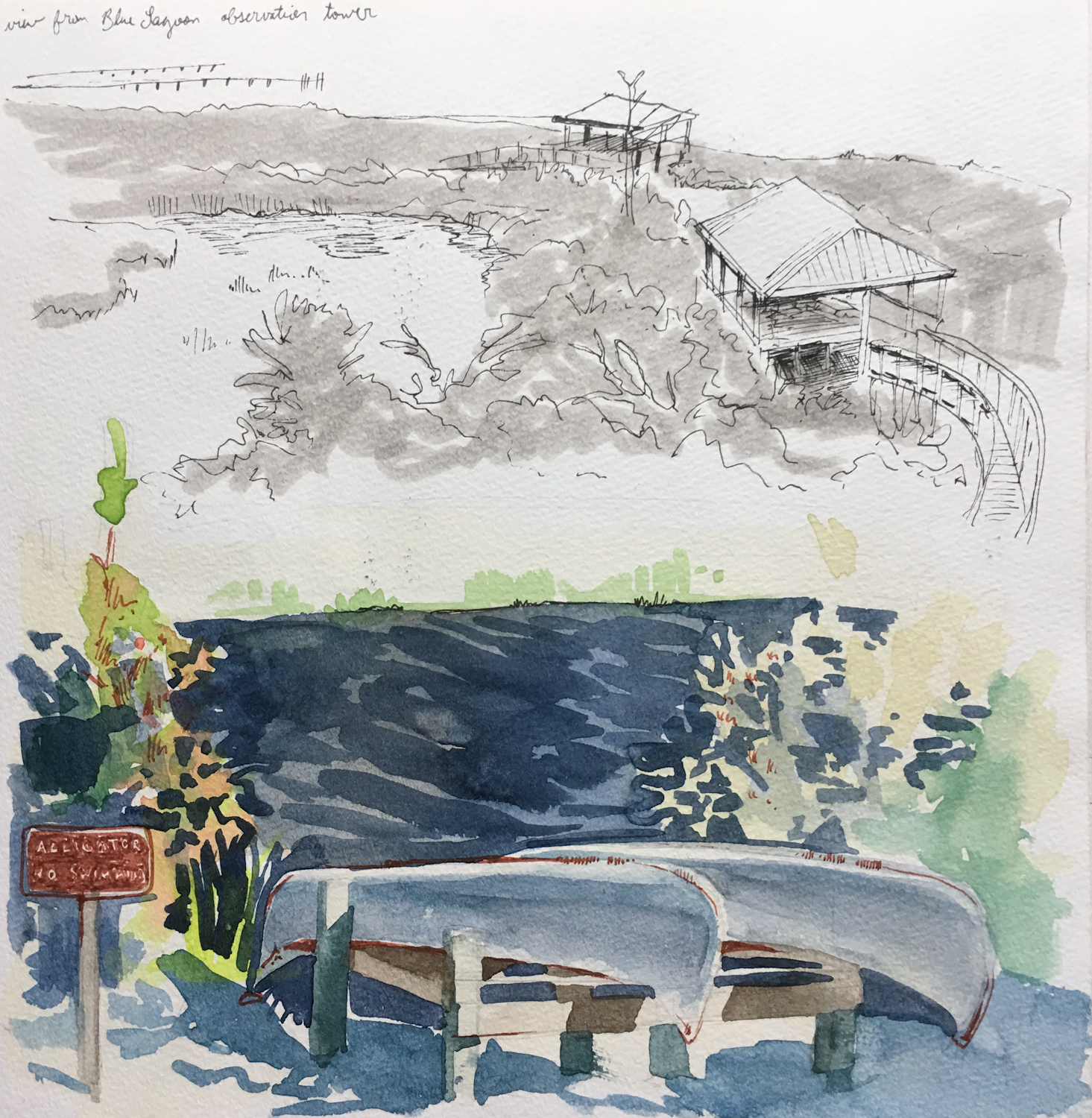 Next, we continued along the barrier island chain into Alabama. We crossed Mobile Bay via ferry to Dauphine Island. During our crossing, the water of the bay was the same blue-grey color and shade as the sky, punctuated by hulking oil derricks, complete with natural gas flames. Everything was so calm and peaceful, it was as if we were floating through fog.

Most of the buildings on Dauphine Island are on stilts, and we spent that evening camping underneath a vacation rental owned by someone on Warmshowers. The following day, we biked to the mainland and through two fishing towns, Alabama Port and Bayou le Batre. We stopped for "The Best Poboys in the Bayou" at a restaurant only a mile from the shrimp docks. The shrimp was delicious, with that haunting sweetness of fresh crustaceans.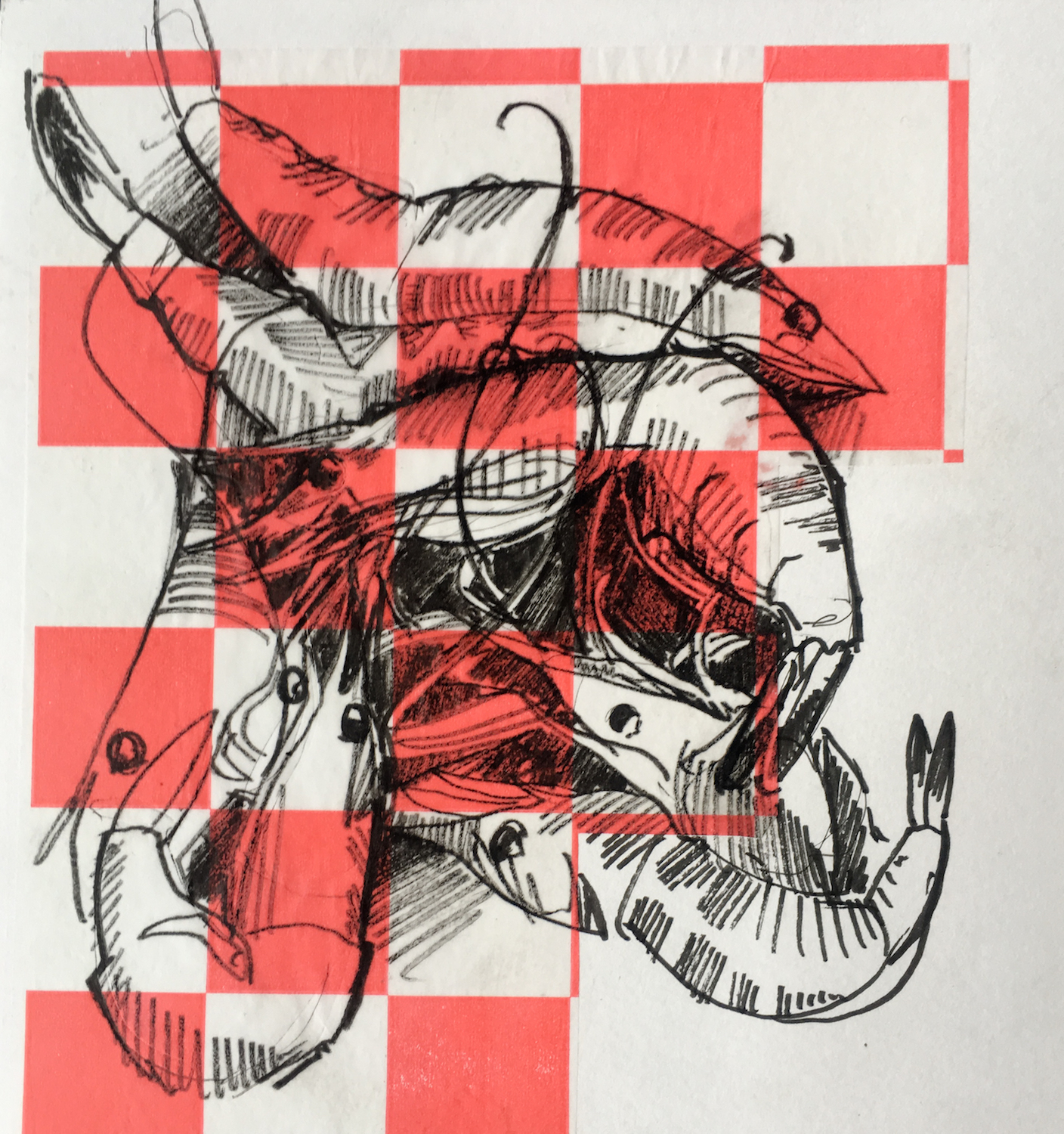 Originally we were planning on biking inland, following the Adventure Cycling route to New Roads LA, then skipping New Orleans. This was mostly because we were tired of having to deal with the traffic associated with the more-developed coastline, and we did not want to take the 150 mile spur two ways from New Roads to New Orleans and then back north again.
However, while lingering with the restaurant owners (waiting for a Christmas parade) we met Tomasz, a bicycle tourist from Poland. Tomasz had met some cyclists that had come from the west, and had successfully travelled along the coast. With that extra piece of information, we decided to make a go of it along route 90 on the coast to New Orleans.
That evening we attended another Christmas parade where I was showered with miniature moon pies thrown from the back of a float. I felt a warm holiday glow seeing the entire small city out in lawn chairs, watching the high school band march pass. We spent that night camping behind the laundry building at a trailer park (yes, with permission!), before we began our detour back to the coast and into Mississippi. We decided to ride much further than usual over the next two days, to reach New Orleans at the same time as Tomasz.
Our first major city on the new route was Biloxi, which was a cluster of casinos, also on stilts. 90 went from rural to overbuilt, so we left the road to ride along the beach boardwalk. There we saw a couple who was dressed to the nines with eyes sharpened like daggers. My only thought was that they must have been casino people, professional gamblers or general hustlers going for a walk, about to start their day. Otherwise, the boardwalk was beautiful, but oppressively long and monotonous. We were happy to make it to our hotel in Pass Christian just after dark. Our hotel upgraded us to a three room suite, with two bathtubs, a four poster bed and private balcony. What a strange contrast from the previous evening's accommodations!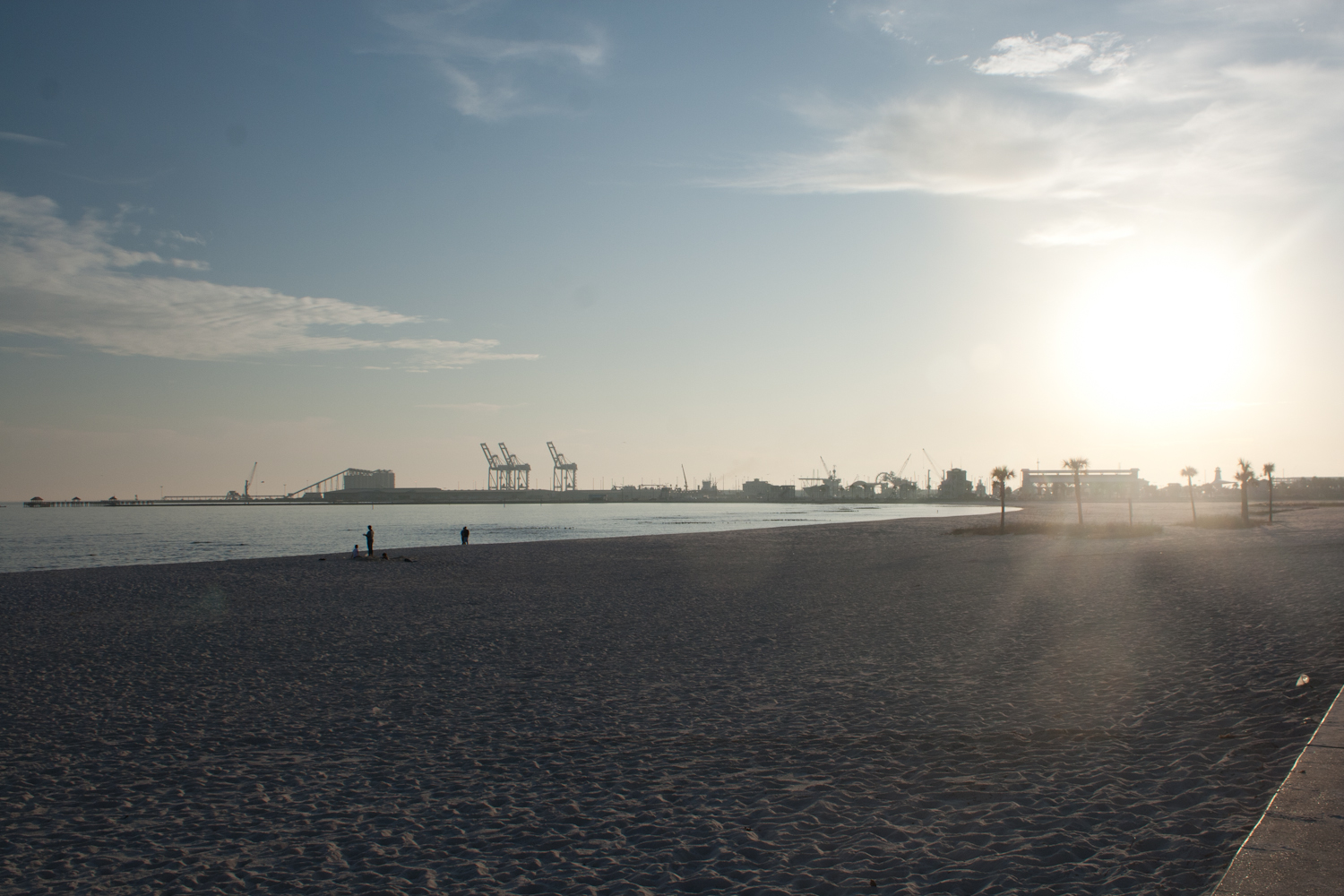 The following day, we passed over a number of bayous and entered Louisiana. The foliage changed fairly rapidly. The palmettos disappeared and were replaced by more midwestern foliage, that you might expect to find in somewhere like southern Ontario, such as oak trees and deciduous shrubbery. However I encountered some novel wildlife: in a protected preserve we saw what must have been a gila monster (or other beaded lizard the size of a large iguana) sunning itself on the side of the road. Unfortunately (or fortunately?) I did not stop to take a picture.
We arrived in New Orleans after our second day of harder riding. I'm glad we detoured to New Orleans. The architecture was beautiful. The people, too, were more cosmopolitan, relaxed, and beautiful as well. Outside of a community bookstore/flower shop we met a few young people stringing together carnations for a hotel. We stayed with some friendly art therapists who had biked across the country.
We did the tourist stuff, too. We walked through the French Quarter, down Frenchmen street and Bourbon street. We went to a bookstore where Faulkner wrote his first novel. We had chicory coffee and beignets at the Cafe du Monde. It was a touristy, yet strangely authentic, experience. We ate a muffuletta at the Central Grocery Co. It was delicious and brought me back to the muffuletta style sandwiches they would periodically serve at my high school.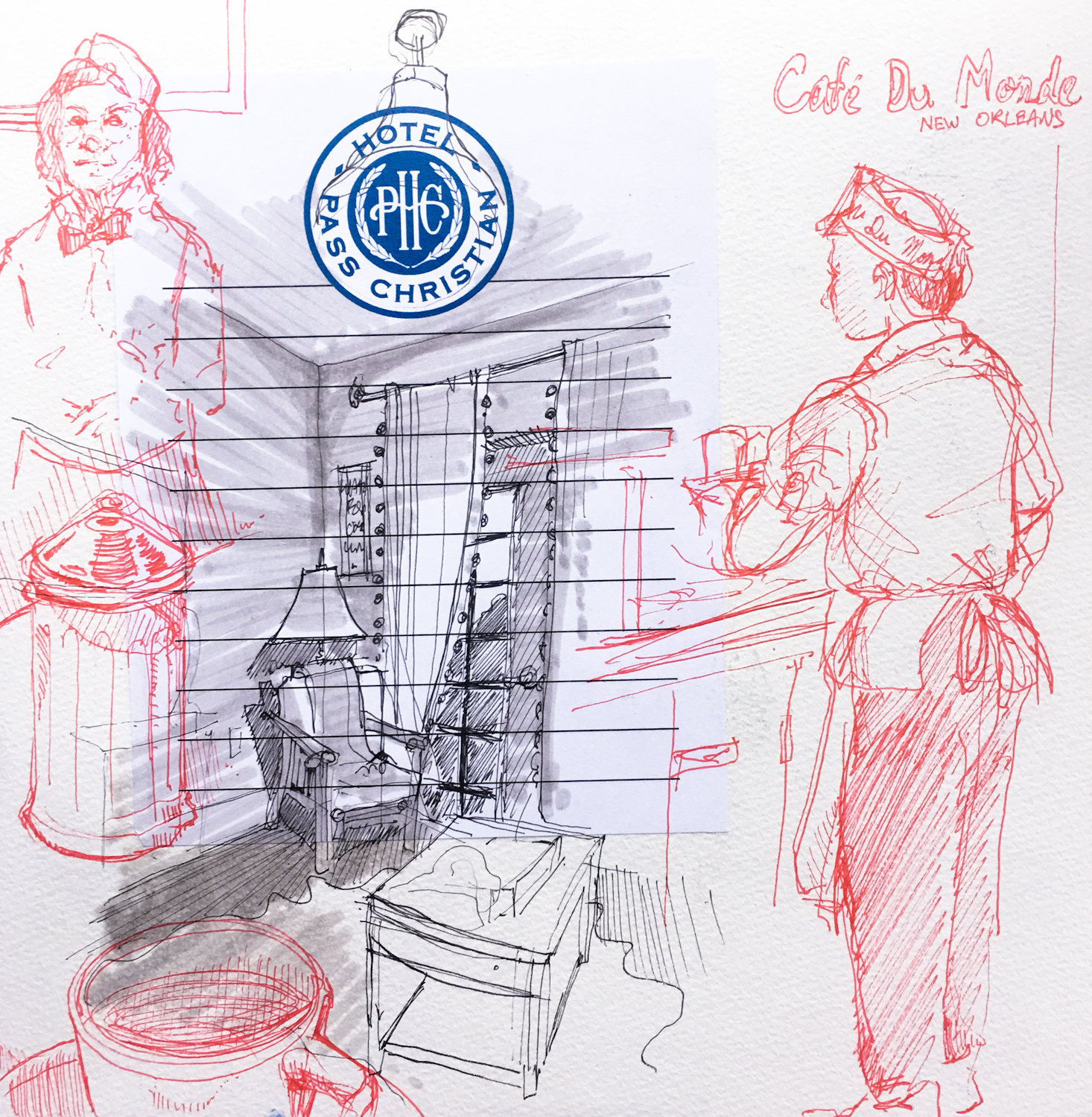 We stayed with our hosts for three nights. One interstitial day was for touristing, and they allowed us to stay an extra day to avoid cycling in 40 degree rain. The transition from complete idleness to bicycling has not been smooth. There have been many times over the past two weeks where we have gone from complete relaxation to relaxed cycling to challenging cycling and back again.
Most of the reasons for this are outside of our direct control, such as illness, the weather, and the availability and distance between services such as lodging or points of touristic interest. Currently we're in a slight holding pattern due to some unseasonably cold and wet weather. It was even snowing this morning, although none of it was sticking to the ground.
Even if we aren't cycling as intensely as we were a month ago, we've been keeping ourselves busy with things like writing blog posts!
That's all for now,
-Jim