Most transitions while bike touring are subtle. Plants and animals come and go, architecture gradually changes, the profile of the land becomes more hilly or flat. This last week was an exception.
First, the weather. In New Orleans, our hottest day hit 80 degrees. When we left, we were waylaid by a freezing temperatures and a freak Lousiana snowstorm. Apparently it snows here maybe once or twice a decade. We're not equipped for cold rain, let alone sleet and snow, so we waited it out in a hotel in Laplace. This experience was made significantly more cheery by sharing it with our new friend, Tomasz. Once the weather cleared, we rode together as a trio for several days through Baton Rogue and over the Mississippi.
We really enjoyed having a third rider. The three of us had a blast talking and sharing stories over the finest wine offered by our local Lousiana gas station. Tomasz rode faster and harder than us, which gave us someone to catch. He had never tried Warmshowers before, so we were able to introduce him to its joys with an exceptional stay with Mark in Baton Rogue.  We didn't realize that despite being more remote, the Southern Tier has far more cyclists than the Atlantic Coast route, so making a friend here was an unexpected delight. We were sad to part ways so that he could make his flight out of Houston.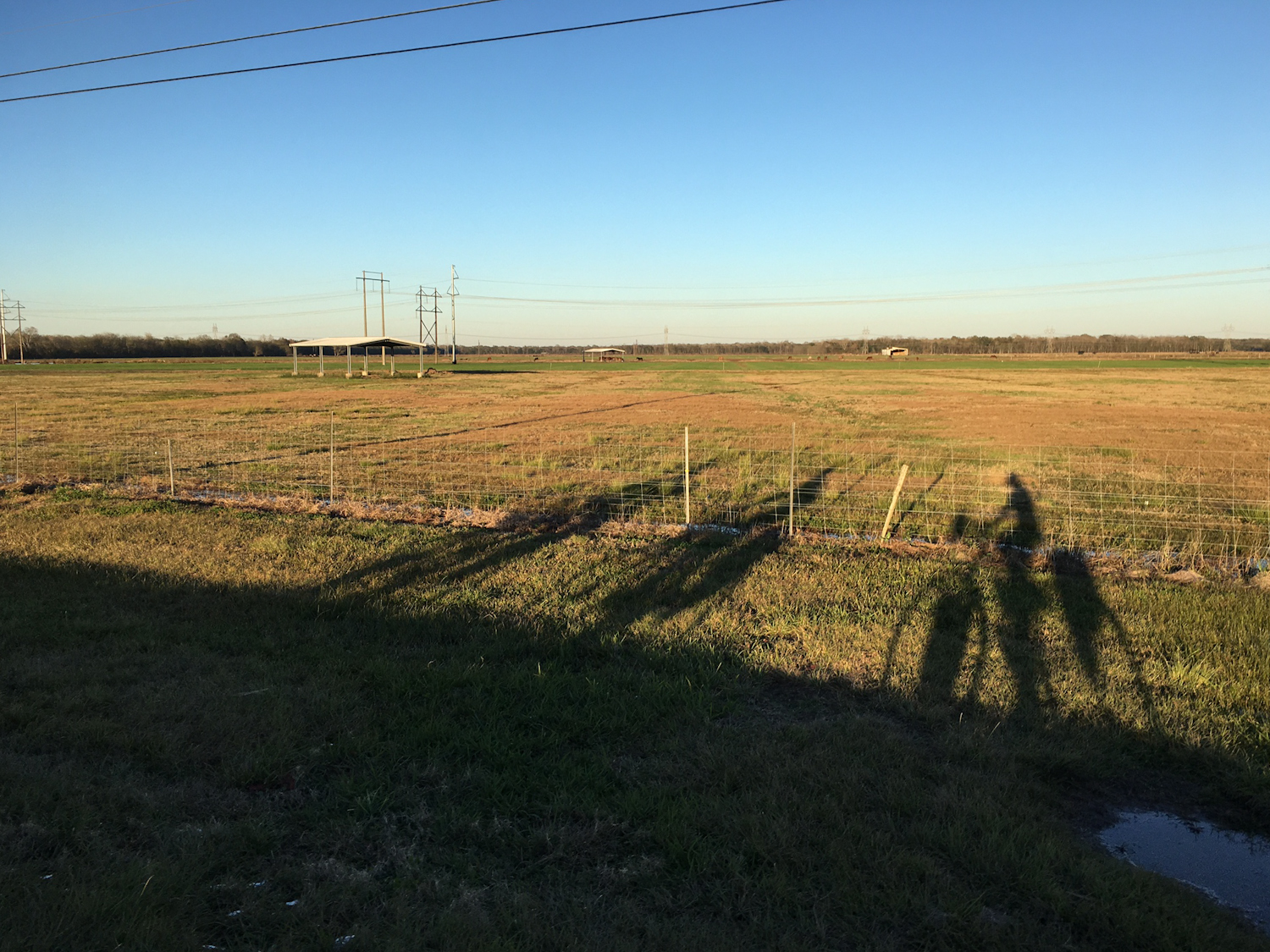 Crossing the Mississippi this week was another abrupt change. After a short climb over the Audubon bridge, we descended into an entirely new landscape. The terrain became very wide and very flat. We saw children riding horses around the neighborhood, a cow feed store, and a dead coyote: we're definitely not on the East Coast any more.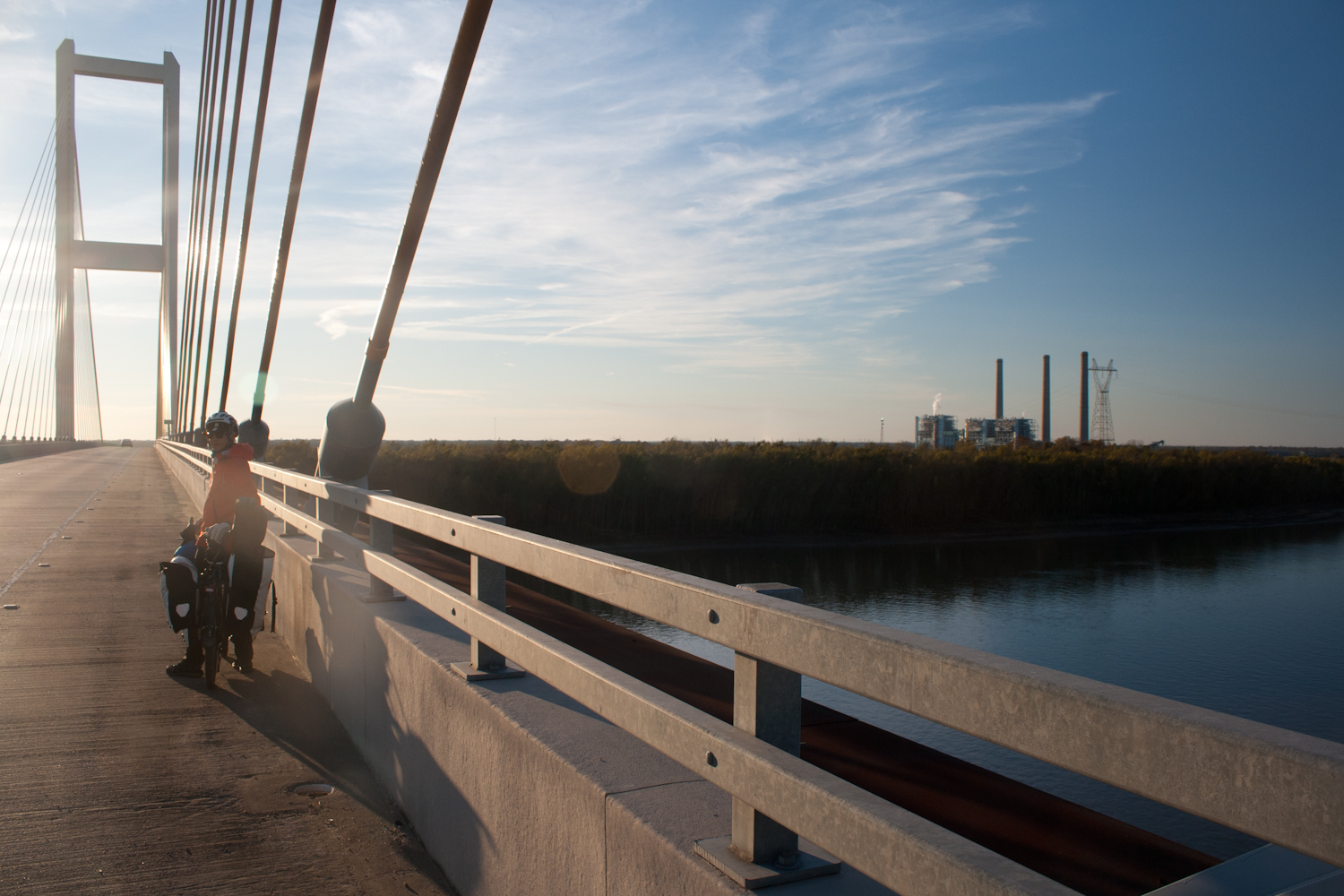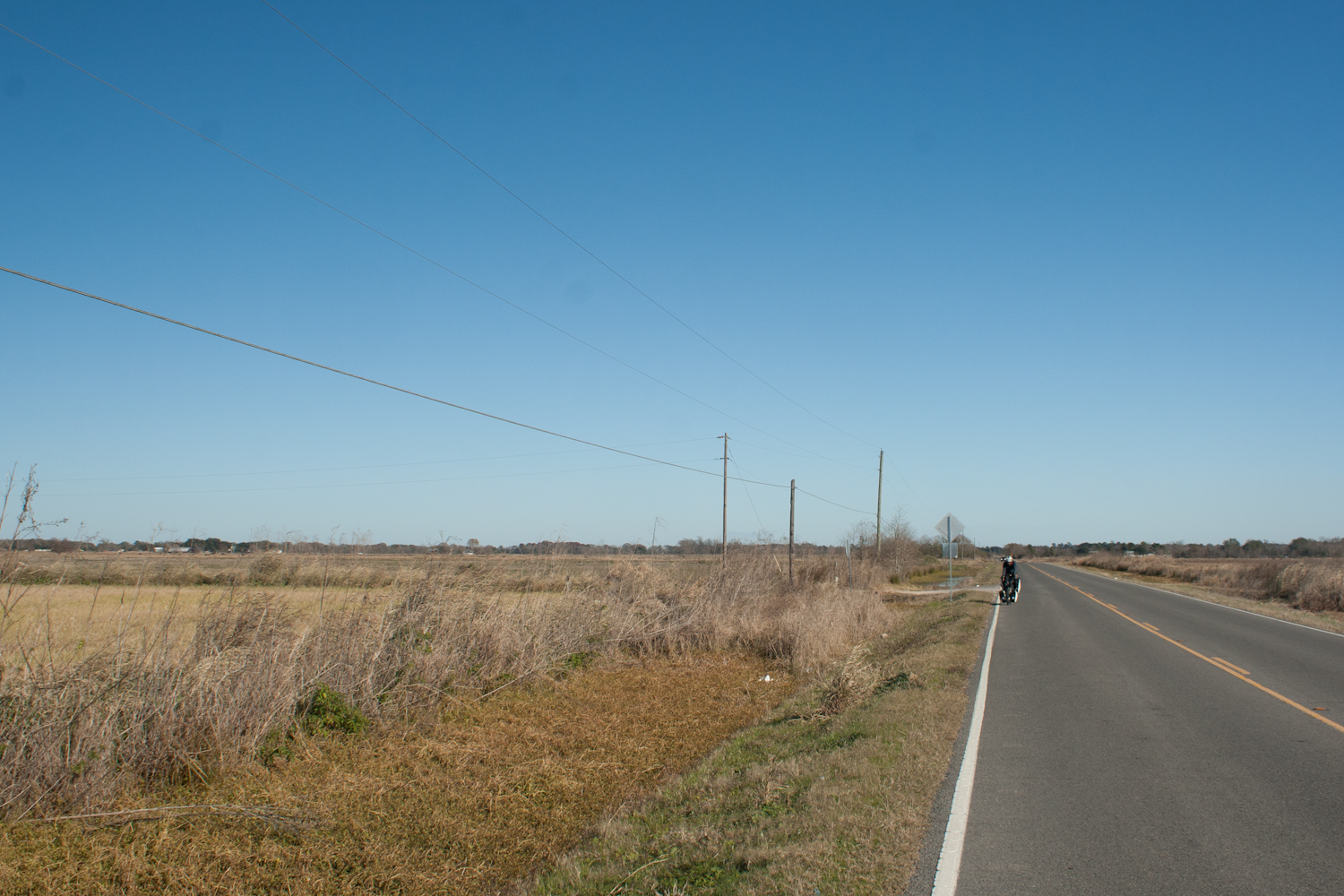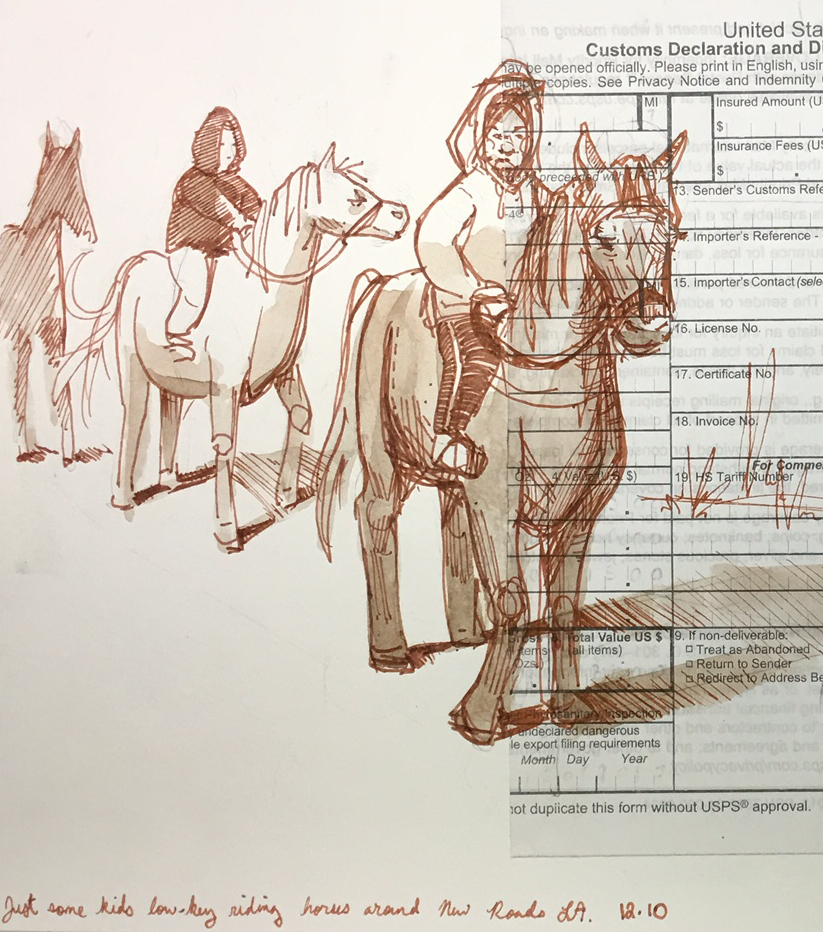 The next few days wound through the plains of Cajun country. There's a deep food culture here – it feels genuine, a cuisine that's obviously treasured by those who make it. Everyone seemed to enjoy asking us what we've tried and telling us what we should eat next. Over the last few days we've had beans with rice and sausage, gumbo, and boudin, but the most magical experience was my encounter with cracklins. I was riding out of a small grocery store, when an older man struck up the usual conversation – where we're from, where we going. All of a sudden, he said "WAIT! Girl, I got a early Christmas present for ya!" He reached into his truck and and pulled out a little brown paper lunch sack. "CRACKLINS!" he shouted. Perfect, irresistible little fried nuggets of pork. The magic cracklins put a grin on my face for the next twenty miles.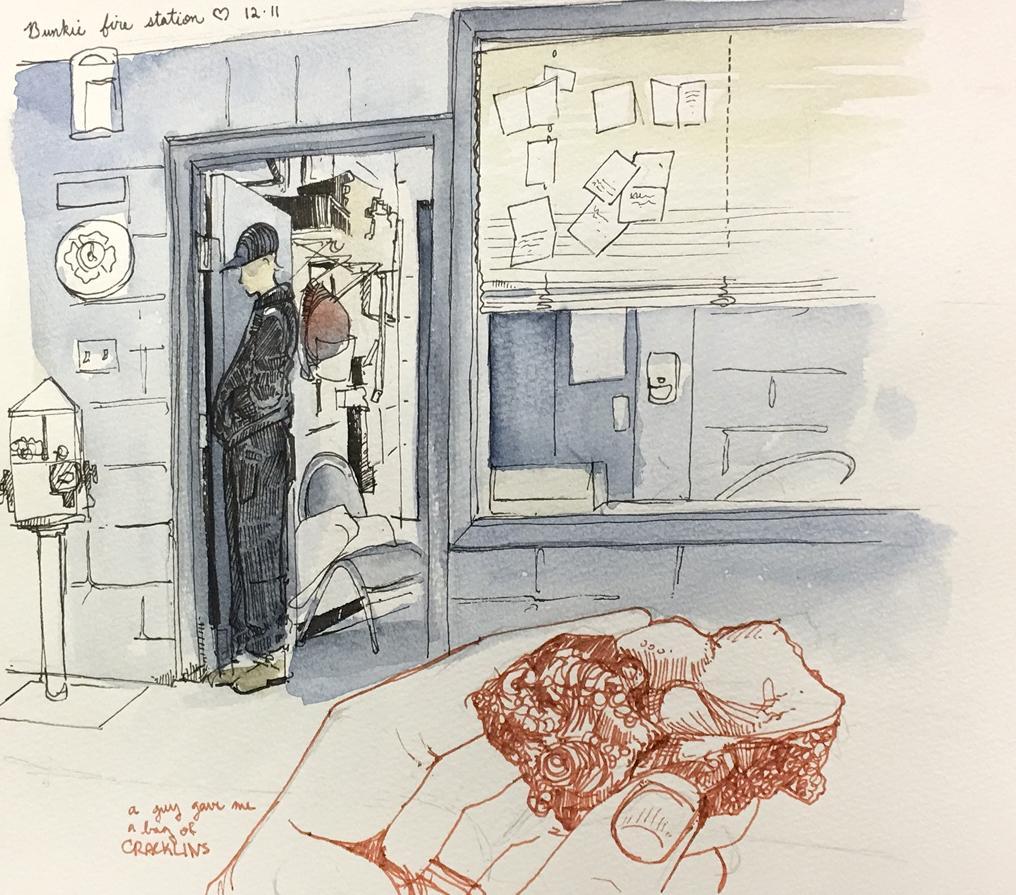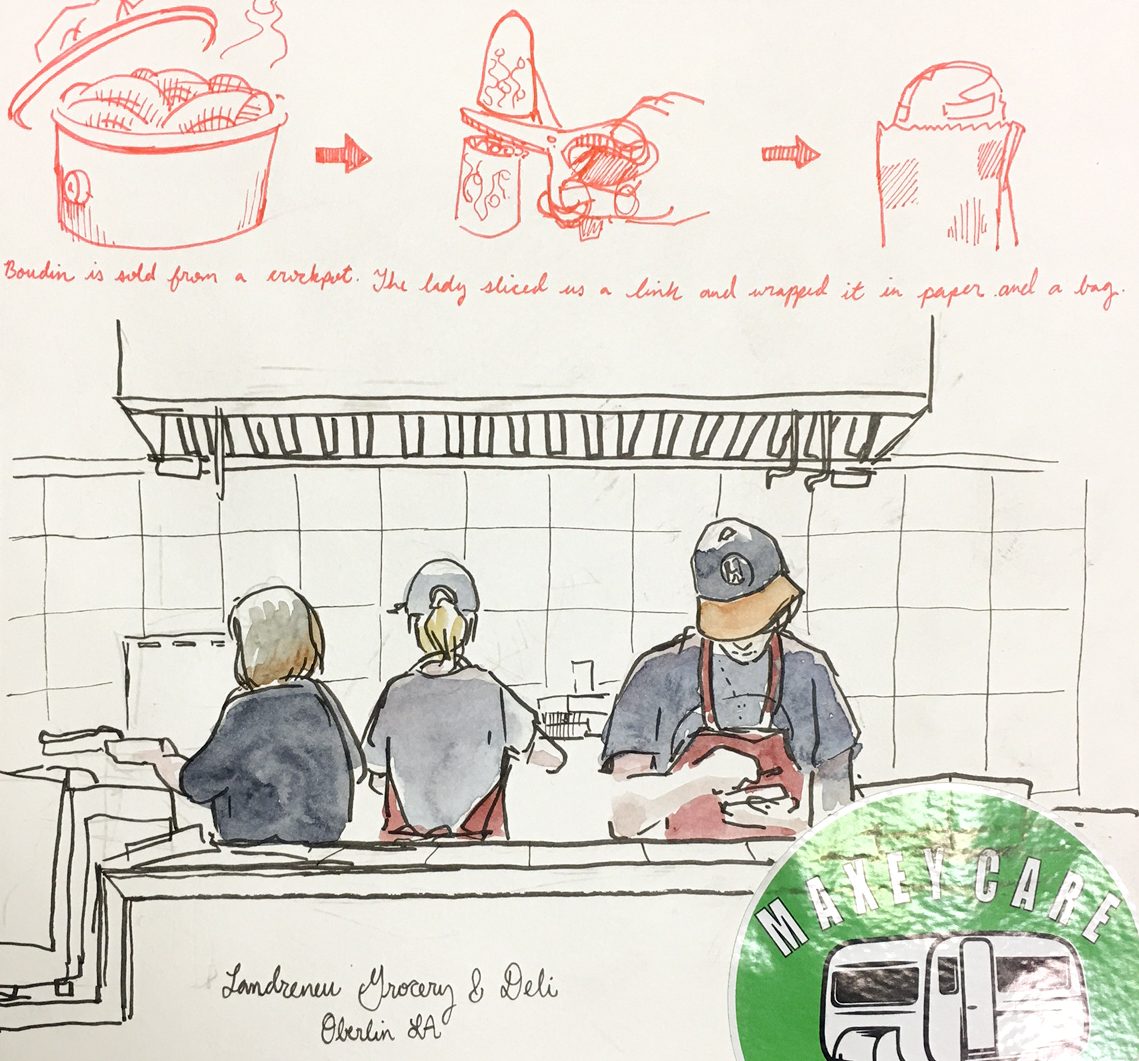 The friendliness of people we've met over the last few days has been overwhelming. We haven't actually handled our own meals in a day and a half. Our host in Deridder, Mandie, fed us dinner and breakfast. A women we met left us a bag of frozen soup on her porch so we'd have something to heat up for lunch. And our host tonight, at a church in Kirbyville, bought us dinner.
Kirbyville brings me to our final abrupt transition: we crossed the border into Texas. It's hard to overstate how large Texas has loomed in our conception of this trip. About one third of the Southern Tier route is through Texas. Border-to-border, it takes most riders about a month to cross it. We've heard stories about the endless western deserts inducing madness in those who ride them. Neither of us can stop humming Thunderstruck. We've spent months joking about "just wait until we're in Texas," and now we're finally here.